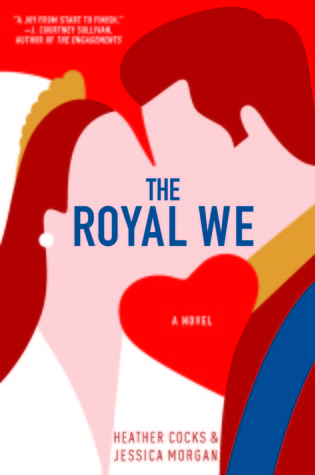 Title: The Royal We
Author: Heather Cocks & Jessica Morgan
Publisher:
HBG Canada
Publication date: April 7, 2015
Genre(s): Fiction (Chick lit)
American Rebecca Porter was never one for fairy tales. Her twin sister, Lacey, has always been the romantic who fantasized about glamour and royalty, fame and fortune. Yet it's Bex who seeks adventure at Oxford and finds herself living down the hall from Prince Nicholas, Great Britain's future king. And when Bex can't resist falling for Nick, the person behind the prince, it propels her into a world she did not expect to inhabit, under a spotlight she is not prepared to face.




Dating Nick immerses Bex in ritzy society, dazzling ski trips, and dinners at Kensington Palace with him and his charming, troublesome brother, Freddie. But the relationship also comes with unimaginable baggage: hysterical tabloids, Nick's sparkling and far more suitable ex-girlfriends, and a royal family whose private life is much thornier and more tragic than anyone on the outside knows. The pressures are almost too much to bear, as Bex struggles to reconcile the man she loves with the monarch he's fated to become.




Which is how she gets into trouble.




Now, on the eve of the wedding of the century, Bex is faced with whether everything she's sacrificed for love-her career, her home, her family, maybe even herself-will have been for nothing.
The Royal We is basically a fan fiction of Kate and William. If you love the royal family, you're going to love this book. I personally don't know much about them but I have a friend who is pretty obsessed, so we both decided to read this book together. I really liked the writing of the authors, I don't really know how they divided up the writing but it all flowed pretty well. I personally always look for how a book is introduced, that introductory chapter has become very important to me and either makes or breaks a book for me. The first chapter of The Royal We was set after the whole story happened, and our main character, Bex, is struggling with a decision she needs to make, and then bam, the chapter ends. I wanted to dive right into the book and try to figure out how Bex got in her future situation.
I really enjoyed the interactions between Bex and the future king, Nick. It was laid back and you get to see that Nick is actually human and has the same struggles that we do even though he is a royal. I loved that initially Bex ad Nick started out as friends and stayed as friends for a while. It gave me flashbacks of Anna and the French Kiss, which is one of my favourite 'friendship turned into relationship' stories.
The book is very long, I think that is the only downside to it. I did like how leisurely the pace was, but I felt that there was unnecessary fillers in between. However if you don't mind spending extra time reading a book, then I say go for it. One thing I'm happy to note is that I wasn't frustrated with either Bex or Nick.. maybe Nick at one point, but never with Bex. She is a very level headed girl with a great family. I loved her family, even though her twin sister seriously annoyed me so much at times. I think The Royal We gives you the backstory on royal families and what marrying into the royal family can be like. I personally cared more about the core relationship, which is Bex and Nick, as well as the struggle of dealing with prejudice, whether be it their differing nationalities (she's american), or her social class. I definitely recommend it to avid fans of the royal family and anyone who likes a good chick lit.