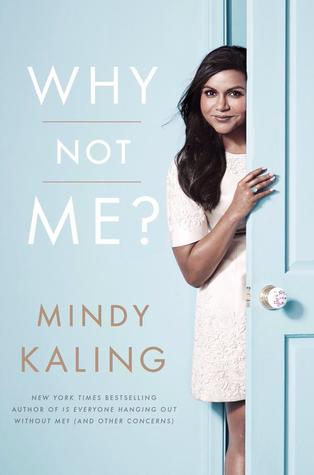 Title: Why Not Me?
Author: Mindy Kaling
Publisher:
Random House Canada
Publication date: September 15, 2015
Genre(s): Non-fiction (Essays, Humor)
In Why Not Me?, Kaling shares her ongoing journey to find contentment and excitement in her adult life, whether it's falling in love at work, seeking new friendships in lonely places, attempting to be the first person in history to lose weight without any behavior modification whatsoever, or most important, believing that you have a place in Hollywood when you're constantly reminded that no one looks like you.




Mindy turns the anxieties, the glamour, and the celebrations of her second coming-of-age into a laugh-out-loud funny collection of essays that anyone who's ever been at a turning point in their life or career can relate to. And those who've never been at a turning point can skip to the parts where she talks about meeting Bradley Cooper.
I loved Mindy Kaling's first book

Is Everybody Hanging Out Without Me? (and Other Concerns)

. I also love Mindy Kaling's show

The Mindy Project

. I basically love anything Mindy Kaling does, with good reason, including her new book

Why Not Me?. Honestly if Mindy Kaling is explaining to me how the REM cycle works, she'll find a way to turn it into the most fascinating, funny, and exciting thing ever. I love her humour and it translates really well in writing. I found myself laughing out loud countless times in the 240 pages of Why Not Me?
I was curious to see what direction she'll be taking with this book that hasn't been done in her previous one. I mean it's somewhat a biography.. what is more to tell than what has been told and what we already know about Mindy? apparently a lot. Her book is more anecdotes about past experiences or fictional stories she made up. You seriously feel like she is directly speaking to you. Her choice of photos and captions are stellar.
Why Not Me? isn't just funny, we get to read about the whole issue with Fox's cancellation of The Mindy Project and Hulu picking it up. I was so happy that was included. I also am especially fond of the last chapter in her book which she addresses a question a girl asked at one of her fan meetings but she regretted not being able to give her a proper answer. Lastly, I love that she talked about body images and how she found herself thrust into being the representative of 'real women with curves'. All her chapters were so interesting and amusing, I never grew bored of reading her book. I wish she writes more and not just this type of book, but an actual fictional story. She included a snippet of what her life would be like if she didn't pursue the path she's on, and man, by the end of that story, I wanted more. Mindy can be a fantastic chick lit writer!
To sum it up, I was not disappointed one bit, even though I've been waiting for this book for over a year. I love Mindy Kaling and her humour will always bring a smile and laugh to me. I am hoping she'll continue writing books, be it fiction or non fiction. I definitely recommend people to pick this up, you honestly won't be disappointed.