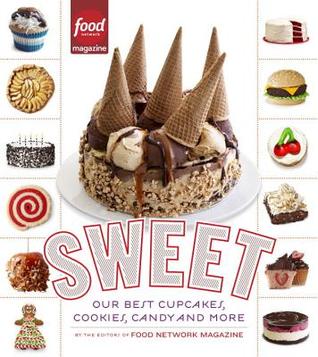 Title: Sweet: Our Best Cupcakes, Cookies, Candy, And More
Author: Editors Of Food Network Magazine
Publisher:
Random House Canada
Publication date: August 19, 2014
TAKE ALL THE GUESSWORK OUT OF DESSERT!




Food Network Magazine editors have picked their all-time favourite treats and put them into one amazing book. In Sweet, you'll find over-the-top brownies, super fun cupcakes, show-off layer cakes, one-of-a-kind cookies and so much more.




This great collection includes recipes for any occasion, with step-by-step instructions and full-page colour photographs to help you along. You don't need to be an experienced baker to get started. Every dessert in this book is easy to follow—and totally foolproof. Each recipe has been triple-tested, so you know it'll come out just right. Flip through and you'll find some fun surprises, too: a bowl made of chocolate, a spectrum of frosting colours and a cake that looks like a giant caramel apple.
Helloooo! It's Lobna here! I've been in some of Maji Bookshelf's videos before so I thought I'd help out and review some books for them! so for this book, I've written my full review but during the next little while, I'll be randomly posting some pictures of the new recipes that I try out! I'm hoping to post them about once a month but we'll see how it turns out! For now, here's what I think.
When I first got my hands on this book, I was really excited to see how it was and to try some of the recipes out. The book is divided into chapters that include different types of sweets such as pies, cookies, fake cakes, show-off cakes and so on. There were some recipes that stood out right away and I knew I had to try them, but there were also some recipes mostly from the "fake cakes" section that I knew were a little

extravagant

. The fake cakes were simply a plain cake that was shaped to be an object other than a typical cake, so some were fries and steak, a pencil, or even a hamburger! I think this will probably the section I would skip out on only because I would rather spend time on the

flavour

of the cake, rather than the shape.

Looking through the rest of the book, I've tabbed a couple that I'll be sure to try out in the future.
To see how well I enjoyed this book, I decided to try a couple of recipes myself. Although I would've loved to make one of the crazy fake cakes, I knew I couldn't eat the whole thing by myself and wasn't sure how big it would turn out to be. Finally I decided to make a simple red velvet cake.
I was able to gather all of the ingredients easily as it didn't involve some crazy random item that nobody has heard of like in some recipes you'll find.
Making the cake itself was pretty easy. The instructions were simple and easy to follow along. The tricky part came in layering the cake but nevertheless I finally finished it!
Here's what the cake should look like according to the book:
As for the taste. Everyone who's tried it has loved it! I know I'll definitely be making it again!
This book has really given me inspiration to try out some new desserts that I haven't before. I was contemplating for a while on how well I should rate it. Although I loved all the crazy ideas, I do wish that there was more simpler recipes included. I would recommend having some baking experience before going out to grab the book as some of the recipes are quite difficult to put together. I also wanted to mention that the majority, if not all, of the recipes can actually be found on the Food Network website. The books is as its name suggests, a collection of their best recipes. Overall, I did enjoy this book and would recommend to flip through it if you can find in store!