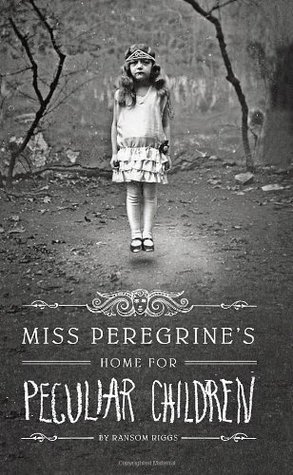 Title: Miss Peregrine's Home For Peculiar Children
Author: Ransom Riggs
Publisher:
Random House Canada
Publication date: June 7, 2011
Genre(s): Young Adult (Paranormal)
A mysterious island. An abandoned orphanage. A strange collection of very curious photographs.

It all waits to be discovered in Miss Peregrine's Home for Peculiar Children, an unforgettable novel that mixes fiction and photography in a thrilling reading experience. As our story opens, a horrific family tragedy sets sixteen-year-old Jacob journeying to a remote island off the coast of Wales, where he discovers the crumbling ruins of Miss Peregrine's Home for Peculiar Children. As Jacob explores its abandoned bedrooms and hallways, it becomes clear that the children were more than just peculiar. They may have been dangerous. They may have been quarantined on a deserted island for good reason. And somehow—impossible though it seems—they may still be alive.

A spine-tingling fantasy illustrated with haunting vintage photography, Miss Peregrine's Home for Peculiar Children will delight adults, teens, and anyone who relishes an adventure in the shadows.
I've been eyeing Miss Peregrine's for a while now. Every time I'd see it at a bookstore, I'd want to grab it but wasn't sure how I'd like it. It's one of those books that's gotten quite the hype but at the same time there's a lot of people who didn't like it. I quickly skimmed through the synopsis but didn't pay too much attention to it and just dived into it right away.
One of the things that I enjoyed about this book is that it didn't have a prolonged and boring beginning. It was easy to get into and didn't take long to finish.

The story is told from Jacob's POV, a 16-year old who doesn't have many friends and is generally unhappy about his lifestyle. As the book progresses, we see him turn into someone who's stronger and can defend himself within a matter of weeks. The story itself is quite strange and I do applaud Ransom for it because I definitely

didn't predict anything when I first started reading.
My favourite part of the book would definitely have to be the photographs! At the end of the book, it mentions that all the photos are actual real vintage photos that were collected by these people who would scour flea markets and old shops looking for peculiar photos! How cool is that?
This book was definitely something unique and I enjoyed every bit of it! The only issue I had, which I think is the reason why some people didn't enjoy the book, is that after finishing the book, I went back and read the synopsis again and to be honest, I feel that it is overly exaggerated. It's hard to explain why without giving away the plot, which can't be discussed without spoiling the story. In the synopsis, it mentions that the pictures are "haunting" and that the Peculiar Children are possibly dangerous and have been quarantined. After reading the book, I realize that these words are slightly true but I still wouldn't really consider this book to be a thriller. It falls somewhere in between the YA and Middle Grade genre, so honestly how scary do you think it would be? Not much, as assumed, so if you're going into the book looking for a haunting book, this is not it. This is a paranormal yet it's not life-scarring.

So my suggestion would be to ignore the synopsis and ignore the hype and just get into it right away. Enjoy it for what it is because I truly did!
Oh and just to show how much I loved it, I ended up picking up Hollow City the moment I finished Miss Peregrine's.