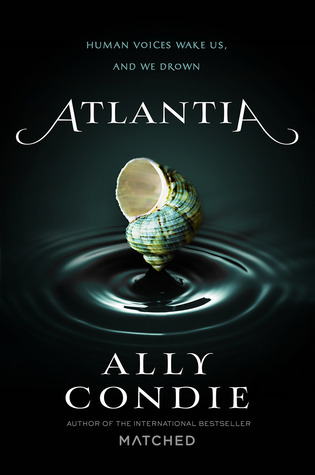 Title: Atlantia
Publisher:
Penguin Canada
Publication date: October 28, 2014
Genre(s): Young Adult (Sci Fi)
Can you hear Atlantia breathing?

For as long as she can remember, Rio has dreamt of the sand and sky Above—of life beyond her underwater city of Atlantia. But in a single moment, all her plans for the future are thwarted when her twin sister, Bay, makes an unexpected decision, stranding Rio Below. Alone, ripped away from the last person who knew Rio's true self—and the powerful siren voice she has long hidden—she has nothing left to lose.

Guided by a dangerous and unlikely mentor, Rio formulates a plan that leads to increasingly treacherous questions about her mother's death, her own destiny, and the complex system constructed to govern the divide between land and sea. Her life and her city depend on Rio to listen to the voices of the past and to speak long-hidden truths.
We have Rio, living in Atlantia, a constructed underworld city. At the age of 16, each person is allowed to choose between staying in Atlantia or going to the above. Rio always wanted to go to the above but when her mother passed away, she decided to stay with her twin. Lo and behold, after Rio, during the ceremony, chooses to stay below, her sister is asked the same question and she chooses the above. Rio feels betrayed, confused, hurt, and all alone.. because she has a big secret, and that is her being a Siren. Sirens are shunned and controlled. The whole book is spent on Rio trying to figure out why her sister went to the above, whether her mom was murdered, and trying to keep her secret hidden. Also, a big portion of that time is spent on her performing in a swimming pool with automated fish and upping the risk to get betters to bet more money so she can plan her escape to the above sooner. This all seems so intermediate.. the whole time I was looking for the big plot but it was nowhere to be found.
The romance was nondescript.

Typical YA friends one page, "i love yous" being thrown out in the second. I've turned immune towards these romances.. before I would really get annoyed but now I just ignore and move on. I really wasn't a fan of anyone or invested in anyone's wellbeing or outcomes. It is sad when you read a book but come out of it with a lack of love towards anything in it. I didn't hate the book, but I didn't like it either. I don't know if it is the plot or just the whole underwater concept that kept me from enjoying the book. I gave it a try because I was sent an unsolicited copy. I own Ally Condie's Matched and Crossed and I will give those a try because I had no problem with her writing. I would recommend Atlantia to fans of the underwater world and mermaid/siren books like Of Poseidon.