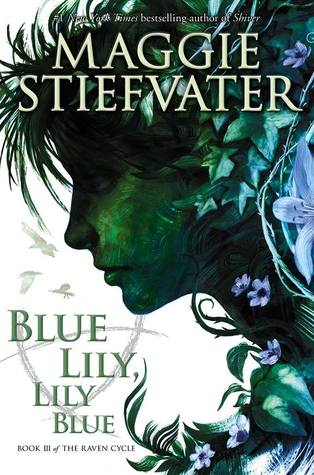 Title: Blue Lily, Lily Blue (The Raven Cycle, #3)
Author: Maggie Stiefvater
Publisher:
Scholastic Canada
Publication date: November 1, 2014
Genre(s): Young Adult (Fantasy)
Blue Sargent has found things. For the first time in her life, she has friends she can trust, a group to which she can belong. The Raven Boys have taken her in as one of their own. Their problems have become hers, and her problems have become theirs.

The trick with found things though, is how easily they can be lost.

Friends can betray.
Mothers can disappear.
Visions can mislead.
Non spoiler section for the whole series: I absolutely loved The Raven Boys. Actually, I didn't just love it, but I was obsessed with it. After reading The Dream Thieves (the sequel), I knew this will be a memorable and fantastic series. The one year wait was absolutely worth it for Blue Lily, Lily Blue. Maggie Stiefvater's ability to create such an intricate and complicated world with such remarkable and unique characters astounds me. Blue Lily, Lily Blue did not disappoint one bit, even with my built up expectations of one year.

The Raven Cycle's fantastical element is so complicated, and I sometimes feel I am grasping it with the tips of my fingers, that explaining it would be a losing battle. However, I must ask you to trust me because it is brilliant. Even though half the time I don't understand what's going on (it is the type of series that the more you reread, the better your understanding of it becomes) I love every second of the fantasy aspect. I love how the characters are so dedicated and immersed in it all. I love that even though it is set in the contemporary world, slivers of fantasy make their way on every page. It is a very refreshing series. This book, while giving us many answers, dumped double that amount with more questions. It is very exciting when a series, already on its third book, is keeping you anticipation as well as excited on what will happen next. I am sad to know that it will only end with four books. All the characters will be sadly missed.

Spoiler section (might contain spoilers of books #1 and #2:

Delving more into the events of Blue Lily, Lily Blue, Stiefvater jumped right into the plot line and even sprinted while we had to catch up to her. Out of the four Raven Boys, my least favorite has become Adam, I mean look at how he was in the previous book! he infuriated me. However, BLLB totally redeemed his character for me. I loved loved loved his developing friendship with Ronan. The two people I least expect to stand each other are becoming friends! (even though they deny it to each other). Adam's character arc definitely developed the most in this book. It truly makes me happy. We still get glimpses of the old Adam, the one swimming in a pool of jealousy because the other boys are rich while he isn't, however those moments and short and fleeting.
Gansey is my favorite character by far, and I loved that there were more chapters dedicated to him here than there was in The Dream Thieves. I admire Gansey and the way he thinks as well as his selflessness and his encompassing love for all his friends. He reminds me a bit of Chuck Bass (from Gossip Girl), without the cockiness and bad personality. Gansey and Blue's scenes definitely made me swoon! those two are hilarious and sweet together. Another character worth noting is Mr.Grey. It is so surprising that a character we hated in the first book is now part of the group and a beloved character. I really like Mr.Grey, especially his chats with Blue and Blue's aunts. Those are some hilarious scenes.
The Raven Boys is still my favorite of the series but Blue Lily, Lily Blue comes close in second. The sequence of events were very thrilling and I loved meeting new characters while knowing more about ley lines and Welsh kings. This book definitely contained more humorous scenes than the previous two.