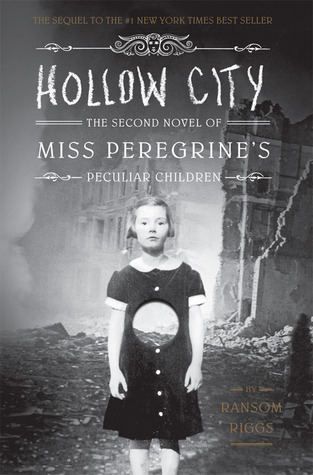 Title: Hollow City
Author: Ransom Riggs
Publisher:
Random House Canada
Publication date:
January
14, 2014
Genre(s): Paranormal/
Mystery
Miss Peregrine's Home for Peculiar Children

was the surprise best seller of 2011—an unprecedented mix of YA fantasy and vintage photography that enthralled readers and critics alike. Publishers Weekly called it "an enjoyable, eccentric read, distinguished by well-developed characters, a believable Welsh setting, and some very creepy monsters."




This second novel begins in 1940, immediately after the first book ended. Having escaped Miss Peregrine's island by the skin of their teeth, Jacob and his new friends must journey to London, the peculiar capital of the world. Along the way, they encounter new allies, a menagerie of peculiar animals, and other unexpected surprises.




Complete with dozens of newly discovered (and thoroughly mesmerizing) vintage photographs, this new adventure will delight readers of all ages.
Hollow City. Hollow City. Where do I begin with you? After finishing Miss Peregrine's Home for Peculiar Children, I had such high hopes for this book. The first book ended with such a dramatic cliff hanger that I immediately started Hollow City right after to find out what happens. And I did. Except it wasn't as epic as I was hoping it to be.
On average, it takes me about a week to finish a book (I'm a slow reader), a couple of days if it's a really good book, and usually no more than two weeks if the book isn't that great. It took me a month to finish Hollow City. Every time I'd pick it up it was a dreaded session. Had I not loved the first book so much, I think I would've dropped this book from the first 100 pages.
This book was slow. Like turtle-speed slow. I found a lot of events that occurred were irrelevant and took too long to explain. In a book where romance isn't a big priority, I do appreciate there being more action or something else to grab the reader. This book had nothing. The entirety of the book was revolved around this one specific goal that at the end, was never accomplished because guess what? There's a third book. To me, I felt as if Hollow City was simply a filler novel. Out of the total 400 pages of the book, it wasn't until around halfway through that I felt somewhat interested in what was happening. Probably in the last 50 pages is when I really wanted to know what happens because it was this big build up to find out if what the characters were trying to accomplish was going to work.
By the time I finally managed to finish this book, I was extremely disappointed with the outcome. I was looking for more and I didn't get any. With all of this, I don't think I'll be picking up the third book when it comes out (some time next year?). Sorry Ransom!