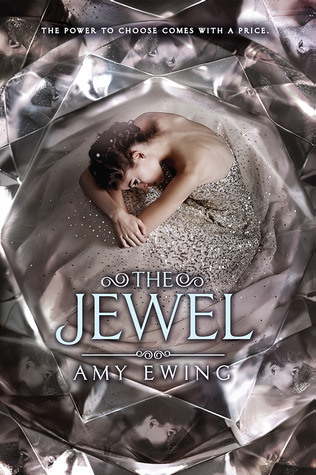 Title: The Jewel
Author: Amy Ewing
Publisher:
HarperCollins Canada
Publication date: September 2, 2014
Genre(s): Young Adult (Dystopian)
The Jewel means wealth. The Jewel means beauty. The Jewel means royalty. But for girls like Violet, the Jewel means servitude. Not just any kind of servitude. Violet, born and raised in the Marsh, has been trained as a surrogate for the royalty—because in the Jewel the only thing more important than opulence is offspring.

Purchased at the surrogacy auction by the Duchess of the Lake and greeted with a slap to the face, Violet (now known only as #197) quickly learns of the brutal truths that lie beneath the Jewel's glittering facade: the cruelty, backstabbing, and hidden violence that have become the royal way of life.

Violet must accept the ugly realities of her existence... and try to stay alive. But then a forbidden romance erupts between Violet and a handsome gentleman hired as a companion to the Duchess's petulant niece. Though his presence makes life in the Jewel a bit brighter, the consequences of their illicit relationship will cost them both more than they bargained for.
The Jewel is both unique but also a cliche in the dystopian genre. Don't get me wrong, I love the concept of this book, and the ending! that was very shocking, however there seems to always be an underlying plot mold that dystopian authors always follow nowadays and The Jewel wasn't fortunate enough to escape that. Our main protagonist, Violet is a surrogate, this took a while to explain and I liked that there wasn't info dumping from the beginning. Violet can manipulate things, such as color, shape, and also growth. At a young age everyone is tested for these skills and if you do possess them then you become the properly of the government, grow up in facilities until your auction day where you are sold to the highest bidder, think sex trafficking but instead of that, it is surrogacy. I liked Violet, she was logical, wasn't impulsive but still had a little rebellious side to her.
I was warned that there will be insta-love in this book and while I didn't feel it was 100% insta-love, I really disliked the romance and how it changed Violet. To be totally honest I wanted Violet to fall for someone else in the palace and was secretly begging the author to take this non cliche route as opposed to the one she ended up taking. However like I have been doing lately, I completely ignored the romance and focused on the plot. The characters in this book are definitely complex, the main one being the duchess, the woman who bought Violet. She is initially made out to be evil but then I glimpse something heartbreaking or vulnerable from her and I started rethinking my initial judgment. I also didn't know who to trust, I even thought some people who were helping Violet escape were actually going to betray her so kudos to the author for keeping me on my toes and surprising me there.
The writing flowed easily and, as I mentioned, there wasn't any info dumping. There was enough information withholding to keep you guessing but not frustrated. Finding this balance for dystopian and mystery novels is very important. There was also a balance between dialogues, monologues, and descriptive paragraphs. Honestly I don't require a book to be completely filled with dialogues but I do require its monologues and descriptive paragraphs to be interesting. As for the ending, I honestly wasn't expecting it and again, I'm happy the author was able to surprise me. That ending alone is going to make me want to pick up the sequel and continue on reading about this world and Violet. Another book similar to this plot is Reckoning by Kerry Wilkinson, with the whole being locked up in a palace and wanting a way out. It's interesting to see dystopian books now are leaning towards this sort of plot line.