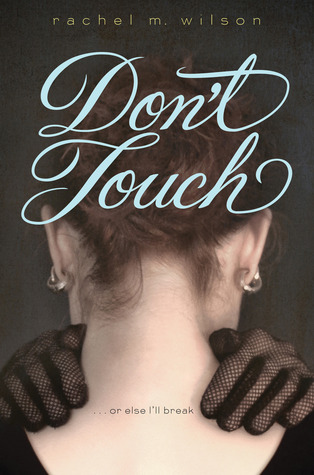 Title: Don't Touch
Author: Rachel M. Wilson
Publisher:
HarperCollins Canada
Publication date: September 2, 2014
Genre(s): Young Adult (Contemporary)
Step on a crack, break your mother's back,
Touch another person's skin, and Dad's gone for good . . .

Caddie has a history of magical thinking—of playing games in her head to cope with her surroundings—but it's never been this bad before.

When her parents split up, Don't touch becomes Caddie's mantra. Maybe if she keeps from touching another person's skin, Dad will come home. She knows it doesn't make sense, but her games have never been logical. Soon, despite Alabama's humidity, she's covering every inch of her skin and wearing evening gloves to school.

And that's where things get tricky. Even though Caddie's the new girl, it's hard to pass off her compulsions as artistic quirks. Friends notice things. Her drama class is all about interacting with her scene partners, especially Peter, who's auditioning for the role of Hamlet. Caddie desperately wants to play Ophelia, but if she does, she'll have to touch Peter . . . and kiss him. Part of Caddie would love nothing more than to kiss Peter—but the other part isn't sure she's brave enough to let herself fall.
Don't Touch deals with mental illnesses in such a real and uncomfortable way. I really felt for Caddie. Throughout the book it was difficult for me to not tear up, feel heartbroken for Caddie, and frustrated at her family for turning a blind eye to what she's going through. Caddie has suffered from OCD tendencies ever since she was young, but tried to hide it because when her mom found out she pretty much broke down and cried her eyes out. Way to make it about yourself mom! I am well aware of how hard it is to know someone close to you with a mental illness but the way her family swept it under the surface is really bad. It took a lot of in your face moments and confessions for them to finally acknowledge it. However, this is the reality of many families and people. I like that Wilson portrayed that.
So Caddie's parents split up, her dad moved out of state, and now Caddie and her brother are angry, sad, and frustrated. Caddie's OCD came back full force and now it developed into a full-fledged monster. She believes that if no one touches her skin, and vice versa, then her parents will get back together. This becomes very stressful when Caddie moves to an art school to pursue her acting and she gets cast in a play and touching is necessary. However this book has a great friendship storyline: Caddie and Mandy, as well as all of Mandy's friends that welcomed Caddie. I automatically fell in love when she sat with them for the first time during lunch period. They were a hilarious, outspoken, non-confirmative bunch: Mandy, Drew, Livia, Oscar, Hank, and of course Peter, the ever-lovable love interest. I loved his personality, how his friendship with Caddie developed and how he dealt with everything going on with her.
Don't Touch might not be heavy on the plot, but the simplicity of the plotline is its strength. You don't need an elaborate plot to tackle mental illnesses so I'm grateful for Wilson for stripping down any add ons and telling the story that really matters. I would recommend it to all contemporary fans, and something to add is that this infuses acting and Shakespeare's play, Hamlet a lot. That was something that made it more unique as well as more likable and a great background plot. I can't wait to read more books by Rachel M. Wilson as well as for everyone to pick this one up!