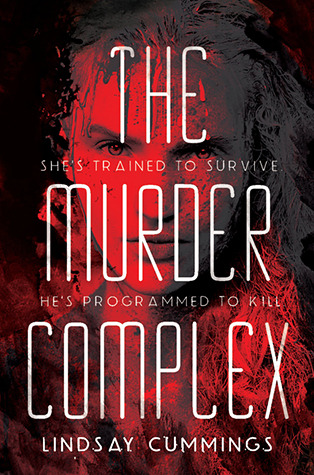 Title:
The Murder Complex
Publication date: June 10, 2014

Publisher:
Harper Collins Canada
Genre(s):
Young Adult (Dystopian)
Source: Publisher
Format: ARC
Meadow Woodson, a fifteen-year-old girl who has been trained by her father to fight, to kill, and to survive in any situation, lives with her family on a houseboat in Florida. The state is controlled by The Murder Complex, an organization that tracks the population with precision.

The plot starts to thicken when Meadow meets Zephyr James, who is—although he doesn't know it—one of the MC's programmed assassins. Is their meeting a coincidence? Destiny? Or part of a terrifying strategy? And will Zephyr keep Meadow from discovering the haunting truth about her family?
The Murder Complex was one of my most anticipated dystopians this year. Any plot with the word "assassin" has me hooked. Also, knowing that the main protagonist was basically a trained killer just made it all the more sweet. Unfortunately I didn't enjoy The Murder Complex as much as I hoped but I do have to point out that it was a very fast read and there are some things that I enjoyed.
I liked the dual POV, and how the chapters aren't long. Trust me when I say that long chapters kill me. If I find out a book is told with short chapters, I would most likely pick it up over a book with long ones. I liked Meadow well enough but I truly didn't understand her family and the dynamics going on there. She has a sister, yes, a brother, yes, and a dad, yes. That is all.. I wished I saw more honest brotherly and sisterly love.. I can't put my finger on it but I just felt it was rushed over.. I wish we had more time exploring their family relationship. As for Zephyr, I have to say that I liked his chapters a bit more than Meadow's. I felt I got a bit more emotional depth from him than her. However what I didn't like and what truly put me off this book was the insta love. I know some people like it.. but I don't. If I knew this book had it, I honestly wouldn't have picked it up because I know I wouldn't end up enjoying it. Insta-love is my worst type of plot and romance line I could find in a book.
The dystopian world was interesting. I just didn't understand some things and they didn't add up. I know this is only the first book in the series and my questions will probably get answered later.. I just wish I was given a bit more. Oh and the killing scenes? they were exactly the same. Slash a throat. blood. break a neck. dead. stab in the heart. blood and dead. It was just the same action/killing scenes over and over again, I honestly grew bored of them. I got into it because of assassins and trained killers.. expecting epic action and killing scenes.. but I didn't get that. Still, I obviously gave The Murder Complex 3 stars because while I had so many issues with it.. I still enjoyed it. Cummings' writing flows smoothly and I find myself reading 50 pages before taking a breather. I would recommend it for fans of light dystopian books as well as readers who read middle grade because this book felt like it wasn't for my age. I will definitely be checking out any future books by Lindsay Cummings that aren't middle grade or from this series since both just aren't for me.