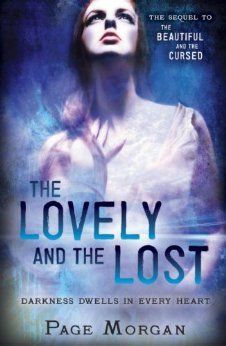 Title: The Lovely and the Lost (The Dispossessed, #2)
Author: Page Morgan
Publisher:
Doubleday Canada
Publication date: May 13, 2014
Genre(s): Young Adult (Historical/Paranormal/Supernatural)
Ingrid and Gabby survived the Underneath. They saved their brother, Grayson, from a future of dark servitude and exposed a plot to undermine the Alliance. But danger still lurks in the streets of Paris, and the Dispossessed, perched on the city's bridges and rooftops, might not be able to save their human wards this time.
The Lovely and the Lost is the sequel to The Beautiful and the Cursed (Review here) which I LOVED. This trilogy caught me by surprise. I started it with no expectations and came out raving and recommending it to anyone who would listen. The Lovely and the Lost did NOT suffer form second book syndrome.. it was even better than its predecessor, if that was at all possible. The plot in the book picked up immediately. We get some background info on the happenings that occurred in the first book then BAM. The characters could barely catch their breath before the next disaster occurred. I could barely keep up with all the craziness going on and I loved every single page of it.
In this book Greyson is a more prominent character than the first and I enjoyed his POV, his struggles, his feelings about himself and his family, and how he was dealing with him being kidnapped in the first book and what happened after < that is non spoiler. As for Gabby, she matured so much. If you read my first review you know she was my favorite character, even though she wasn't the main protagonist, and for this book I still stand by what I said. In The Lovely and the Lost she was just so mature and wise and very logical. Yes she's still the spontaneous fire cracker I got to know her as in the first book.. but she seems more solid and controlled. Of course I am still a fan of her love line and ugh.. just so many feelings there. As for our main protagonist, Ingrid, she frustrated me as usual.. but not overly much. Her love line just really had my feelings all over the place.. and not in a good way. Still, her relationship with Gabby is my favorite of her relationships.
The plot is a continuation of the first book but with more added to it.. I loved the flow of the plot and how nothing was too dragged out or glossed over. The history, the details, and the character development and relationships were all written in the best way possible. I honestly can't wait for the third book but at the same time I don't want this trilogy and world to end. I have also filmed a video review of the trilogy so far and will be uploading it soon. You should know by now how much I love this trilogy, please pick it up!