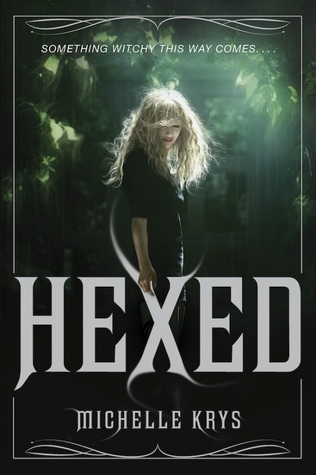 Title: Hexed (Hexed, #1)
Author: Michelle Krys
Publisher: Random House Canada
Publication date: June 10, 2014
Genre(s): Young Adult (Paranormal)
If high school is all about social status, Indigo Blackwood has it made. Sure, her quirky mom owns an occult shop, and a nerd just won't stop trying to be her friend, but Indie is a popular cheerleader with a football-star boyfriend and a social circle powerful enough to ruin everyone at school. Who wouldn't want to be her?

Then a guy dies right before her eyes. And the dusty old family Bible her mom is freakishly possessive of is stolen. But it's when a frustratingly sexy stranger named Bishop enters Indie's world that she learns her destiny involves a lot more than pom-poms and parties. If she doesn't get the Bible back, every witch on the planet will die. And that's seriously bad news for Indie, because according to Bishop, she's a witch too.

Suddenly forced into a centuries-old war between witches and sorcerers, Indie's about to uncover the many dark truths about her life—and a future unlike any she ever imagined on top of the cheer pyramid.
Hexed by Michelle Krys was on my radar as soon as I found out it is about witches. If you know me, you know I devour any witch book I can get my hands on, thanks Cate Tiernan for that! Also, the cover is beautiful, even better when seen in person. The book follows Indigo, a girl who had no idea that witches and magic are real until she is plunged into a deadly war between the witches and sorcerers. I enjoyed Hexed, albeit it didn't capture my attention all the time, I thought it was a pretty interesting book and had a ton of twists, left and right.
Indigo was a good character, even though initially she had the typical horrible best friend and popularity getting in the way of her logic thinking.

The introduction of Bishop finally gets her thinking and while I didn't care for the romance at all, I did like the way he made her look at who she is and what she's become and let her re-think everything she believed in.. including the existence of witches. I have to admit though.. I didn't get much magic or powers in here.. it felt a bit more like they have supernatural powers rather than them being witches.. maybe because I've read so many witch books and now always compare them to the ones I read.
Still, I wished I got more on the background of the witches and just the witch-y stuff.. you know what I mean! Still, the author held nothing back. There were many gasp inducing moments that I had to reread to make sure I understood what just happened right. unbelievable is the right word. I even took it to twitter and discussed with people the shock. haha. It's a good thing when an author takes us by surprise so early on in the novel. I definitely recommend it to paranormal fans and even contemporary fans since I feel this reads as a mash up for both. I'm excited to read the sequel, now that Indigo has a better hold on her reality and the hopefulness that we'll get more involved in the magic aspect of the story.