This is a new weekly meme hosted by Cristina at
The Princess of Storyland
. I am a huge fan of book covers. I sometimes tend to buy and read a book based on covers. This meme is for showcasing some new books that have covers i fell in love with.
Sweet Venom by Tera Lynn Childs
how eye catching is this cover? i especially love the split at the end of her hair, reminds me of the tail of a mermaid. I love the simplicity of this cover!
The List by Siobhan Vivian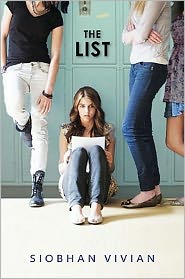 Just from the cover you can tell this book is about high school cliques and the drama that everyone has gone through at one point during their high school days. Love all the blue hues in it.
Eve by Anna Carey
Don't you want to know what's at the end of this bridge? I do. Again i love the rainbow like colors. Green then blue then purplish. Very pretty. Contrasts with the girl's brown hair and dress (or is that red hair?)
What covers have got you drooling in anticipation over reading the books?