Hello everyone! It's been a little quiet here on the blog this month, but I'm happy to be back with a review
and a
giveaway of a book I read this year, and immensely enjoyed. I met S. K. Ali (and the team at Simon and Schuster Canada) a few months ago and had the opportunity to hear her talk about the premise of the book and her motivations behind writing it. I read the whole book in one sitting on the bus back home, and now I get to share it with all of you!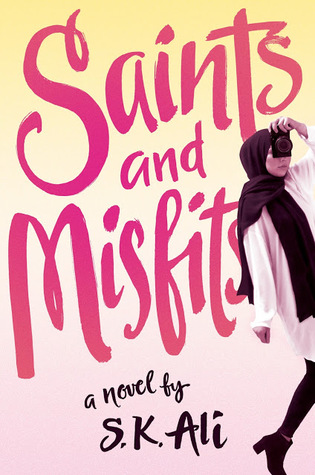 Title:
Saints and Misfits
Author:
S. K. Ali
Publisher:
Salaam Reads/Simon and Schuster CA
Publication Date:
June 13, 2017
Genre(s):
Contemporary
Source:
ARC from publisher
Pages:
352
Add to Goodreads
|
Chapters
|
Amazon CA
|
B&N
Saints and Misfits
is an unforgettable debut novel that feels like a modern day My So-Called Life…starring a Muslim teen.
How much can you tell about a person just by looking at them?
Janna Yusuf knows a lot of people can't figure out what to make of her…an Arab Indian-American hijabi teenager who is a Flannery O'Connor obsessed book nerd, aspiring photographer, and sometime graphic novelist is not exactly easy to put into a box.
And Janna suddenly finds herself caring what people think. Or at least what a certain boy named Jeremy thinks. Not that she would ever date him—Muslim girls don't date. Or they shouldn't date. Or won't? Janna is still working all this out.
While her heart might be leading her in one direction, her mind is spinning in others. She is trying to decide what kind of person she wants to be, and what it means to be a saint, a misfit, or a monster. Except she knows a monster…one who happens to be parading around as a saint…Will she be the one to call him out on it? What will people in her tightknit Muslim community think of her then?
Reading Saints and Misfits was a very unique experience for me. Most of my favourite books have characters that I identify with in some way or the other. Over the years, however, I had come to accept that there are parts of my identity I simply will not see in books. I identified with the individuality and spirit of those characters, but not their household routines, not their religious practices, not with the communities that they were part of. I had normalized this experience to such an extent for myself, that it was a struggle to work up the indignation at reading book after book with whitewashed characters, with maybe one person of colour thrown in for comic relief. On the rare occasion that books did feature a Muslim character, it felt off, half-heartedly researched and poorly executed. In some ways, it almost a relief to go back to books with no Muslims, because I'd rather my religion be represented correctly than awkwardly thrown in for diversity.
Something I wish I could tell authors who write Muslim characters unsuccessfully is that Islam is not a collection of rituals. It is a way of life. And to capture that in a book, you have to understand and respect it, not just research and describe it. For this reason, I avoided books featuring Muslim characters written by non-Muslims. Islam is a central part of my identity, and I simply did not want to take the risk of reading a book where it is misrepresented.
Saints and Misfits fixed all of that, and that's why I think it's such an important book for both practicing Muslims, and non-Muslims who want to understand Islam. Islam is not just a small part of Janna's life. It is something that shapes her personality, guides her decisions, and determines her actions. This was something that I identified with a lot. It almost made me self-conscious, reading a book like this. It felt like someone recognized a part of my life that had been overlooked for so long, and shone a spotlight on it. And at first, it felt disorienting. And then, it felt really, really good. I'm incredibly grateful to this book for giving me this experience — one that I'd given up hope of having.
There were some of the book that left me feeling disengaged. I would attribute those to present tense-first person writing style, and the secondary characters (Farooq, Fiza and others) which I felt were a little under developed. However, I really liked the contrast in Sausun's and Janna's personalities. Sausun reacts to some key plot elements in a very different way from Janna, and I think it's important to realize that both reactions are valid. Strength manifests in everyone in different ways. We are not all supposed to be fierce, strong, visceral and combative, as long as we all are respectful.
It wasn't just the big things—the hijab, the prayers five times a day, the trips to the mosque or the avoidance of alcohol. It was the little things—Janna fussing over the folds of her hijab, the community around a mosque in a neighbourhood, dealing with people who say you're missing out when they find out you don't drink alcohol, dealing with people who are indifferent or uninformed about your lifestyle, buying halal marshmallows (I related to that
so hard
), and having non-Muslim friends that respect your culture. It was those things that made me think,
there I am
.
The folks at S&S Canada have arranged a giveaway of a signed, finished copy of Saints and Misfits. Enter below to win!
a Rafflecopter giveaway