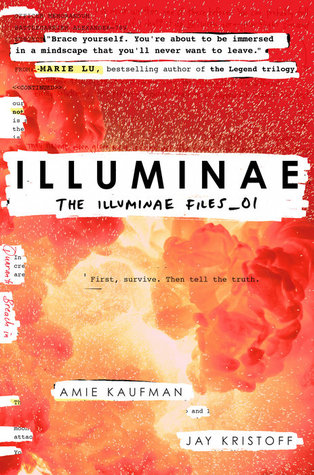 Title:
Illuminae
Authors:
Amie Kaufman, Jay Kristoff
Publisher:
Knopf Books for Young Readers
Publication Date:
October 20, 2015
Genre(s):
Science fiction
Source:
Library
Pages:
599
Add to Goodreads
|
Chapters
|
Amazon CA
|
B&N
This morning, Kady thought breaking up with Ezra was the hardest thing she'd have to do.

This afternoon, her planet was invaded.

The year is 2575, and two rival megacorporations are at war over a planet that's little more than an ice-covered speck at the edge of the universe. Too bad nobody thought to warn the people living on it. With enemy fire raining down on them, Kady and Ezra—who are barely even talking to each other—are forced to fight their way onto an evacuating fleet, with an enemy warship in hot pursuit.

But their problems are just getting started. A deadly plague has broken out and is mutating, with terrifying results; the fleet's AI, which should be protecting them, may actually be their enemy; and nobody in charge will say what's really going on. As Kady hacks into a tangled web of data to find the truth, it's clear only one person can help her bring it all to light: the ex-boyfriend she swore she'd never speak to again.

Told through a fascinating dossier of hacked documents—including emails, schematics, military files, IMs, medical reports, interviews, and more—Illuminae is the first book in a heart-stopping, high-octane trilogy about lives interrupted, the price of truth, and the courage of everyday heroes.
Another
Sister Blog Recommendation Challenge
Book done! This challenge is an excellent way for me to pick up books that I've been meaning to read for ages. Illuminae was recommended by the lovely
Audris
, over at the
YA Bookmark
.
I want to get the ship out of the way first. Kady and Ezra as a couple are basically thrown in your face starting page three. It isn't instalove, per se, because they've just broken up, but it felt like Kaufman and Kristoff were anxious to establish how very real Ezra and Kady were as a couple, realized that wouldn't be easily to do since the entire book is literally a dossier of military evidence, and decided to start early. This upset me for two reasons. It felt extremely unrealistic to me that they'd be so fixated on their romantic drama since the stakes in this book are stupid high (more on them later). More importantly, it was obvious that their romance was a very big driving force in the plot which annoyed me because a) I did not ship them and b) I like my romances character, not plot driven.
I'm actually getting more irritated as I write this, gah.
On to the good stuff. Kady. Lord, this girl has guts. As soon as the book started, she jumped right into the thick of the action, sneaking around, risking her neck every second day, and hacking and cracking stuff. She was so, so brave. She really came through in the last third of the book-- her combination of impulse and courage makes her the kind of heroine all of us want to be. She was beautiful and fearless and strong, and I really hope Kaufman and Kristoff aren't done with her.
I have nothing to say for Ezra, really. He bored me, he was way too romantic for me, and a tad hot headed. Like I said, he really only existed to further Kady's arc. He was part of a very, very significant Twist that legitimately had me reeling and keening and gasping, Kaufman and Kristoff those sneaky---
And then he was part of another Twist that had me rolling my eyes and shaking my fists and yelling at the book. Spoiler:
WHEN PEOPLE DIE THEY'RE SUPPOSED TO STAY DEAD. You had one job Ezra, ugh.
As for the format, well, I liked it, in that it was different. It does a good job of making the readers realize how high the stakes really are, and making them realize that fast. I feel like that wouldn't have been possible in a traditional narrative. Three or four different mysteries are thrown in your face one by one. Since it took me a while to get used to the format, I was left trying to piece together information, flipping back and forth, sorting out people and spaceships in my head, but I didn't mind. That felt like part of the whole Illuminae experience, rather than shoddy storytelling to me.
The book starts after the invasion of an illegal mining colony, Kerenza, and we're flung headfirst into the aftermath. The questions about the attack are barely answered, the characters (and I) have barely recovered and then something goes wrong. There's action, political intrigue, twists, and the lives of a surviving colony at stake, and obviously, everyone has a different solution to the problem. The story is mainly fixated on Kady and Ezra, but there's a few side characters sprinkled throughout that made for a very interesting read. Questionable characters making morally grey choices and dealing with the aftermath of their choices, I am SO here for this.
The entire dossier of documents tells a very intricate story. I liked every format presented (except an annoying Wikipedia-esque format used only once, thankfully). The book did a good job of maintaining suspense, exposing the nuances of its characters, unfolding the world Kady and Ezra lived in, making me root for the characters, and giving me approximately 3.5 heart attacks. Unfortunately, it also did that by making the whole thing feel a tad unrealistic. I know, I know what you all are thinking. It's science fiction and space invasions! Everything's unrealistic! Yes, but these are
military
documents
. My heart just couldn't roll with it.
What it
could
roll with, however, was AIDAN. Hello, creepy destructive evil AI, where have you been all my sci-fi-obsessed
life
? I bristled a little bit at the geeky "010101" and "<ERROR>" gimmicks (I'm a Computer Science major and I will be relentless, yes I will), but truly, Kristoff and the graphic designers of the book pulled out all the stops when it came to AIDAN. AIDAN was so creepy, I was actually afraid to read towards the end when shit was blowing up left and right. He sounded cold and distant, and a little bit manic, every bit (pun intended) the computer program that had gone haywire and gotten all its code crossed. There were touches of humanity in him, and for a second there, I was fooled, but Kristoff was quick to follow that up with a reminder that nope, he's a machine and doesn't feel no love.
On a sidenote, if anyone else really liked this format, I highly recommend
The Unfinished Life of Addison Stone
by Adele Griffin, also a docufiction, in which the "docu" part was (arguably) done a bit better.
I'm super excited for the sequel and/or companion because it features two completely new characters! Kristoff and Kaufman have promised
some exciting things
!