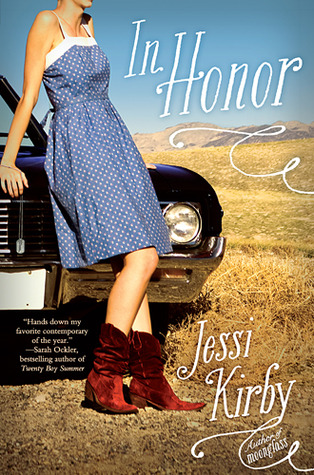 In Honor was one of those books that I've bought and shelved for over a year. I wanted to read it because it was a road trip novel, but it also revolves around a girl who just lost her brother who was a soldier in Iraq. The book was short, and I really like Honor. Her pain was so raw and real, I couldn't help but cry and tear up every time she did. She ends up going on a road trip to a concert her brother sent her two tickets for before he died, thinking it is a message from the universe and she had to honor her brother by going. Her brother's ex best friend ends up tagging along (unwillingly from Honor's part) and their mutual love for her brother (and his childhood best friend) was just so sad. When they would reminisce or say "I miss him" out of the blue to each other... that just tore me up. I really enjoyed the pacing of the book and how it didn't lose focus of the main plot. I ended up giving it four stars and I will definitely be picking up more books by Jessi Kirby.
For Darkness Shows the Stars was one of those books I've had my eyes on before its publication. It is a retelling of Jane Austen's Persuasion, set in a dystopian world. The main character, Elliot, is 18 years old. She is the only one in her family of three (a mean and useless father and an ignorant and frivolous older sister) that is actually trying to run the estate and get money and crop so she, her family, and their estate workers can get by the winter. Elliot's family are Luddite, who are of a superior class to the Reduced or Posts. The reduced are people who caused the reduction due to their genetic experimentation going wrong. While the Posts are the children of reduced who are born without any disabilities. The discrimination can be applied not just in this world, but also in real life. I liked the concept of her childhood friendship with a Post boy and her needing to stay back when he wanted to leave with her, in order for her to take care of her family and her workers. I especially liked that four years later (when the book officially started) he comes back as a very successful ship pilot and him and his crew will stay in Elliot's property for a duration. I loved their tension and I especially loved how Elliot wasn't naive and smitten with romance. I gave this book four out of five stars and I really want to pick up the companion novel, Across a Star Swept Sea, soon.
Live Through This starts off with a very scary chapter. It is a rape scene, or at least a sexually abusive scene in the middle of the night, happening in the room, in the bed, of the main protagonist, Coley. I was so freaked out. But the next chapter? it is like nothing has happened. I honestly thought it was a dream. Then she was acting weird around her family (her mom, half-sister, step father, and brother). I immediately thought her dad is the predator. I was suspicious and so confused because I still wasn't even sure if this is her imagination or actual facts. This book follows her struggles to have a normal life with normal friends and start a romance with her friend and crush Reece. This book gave me chills and I just couldn't read fast enough. I just wish there is a sequel or it didn't end where it ended. I needed more. That is why I gave it four out of five stars.