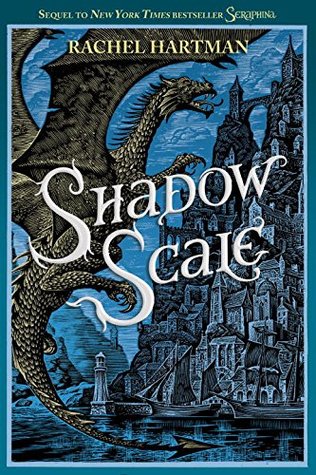 Title:
Shadow Scale
Author: Rachel Hartman
Publisher:
Random House Canada
Publication date: March 10, 2015
Genre(s): Young Adult (Fantasy)
The kingdom of Goredd: a world where humans and dragons share life with an uneasy balance, and those few who are both human and dragon must hide the truth. Seraphina is one of these, part girl, part dragon, who is reluctantly drawn into the politics of her world. When war breaks out between the dragons and humans, she must travel the lands to find those like herself—for she has an inexplicable connection to all of them, and together they will be able to fight the dragons in powerful, magical ways.




As Seraphina gathers this motley crew, she is pursued by humans who want to stop her. But the most terrifying is another half dragon, who can creep into people's minds and take them over. Until now, Seraphina has kept her mind safe from intruders, but that also means she's held back her own gift. It is time to make a choice: Cling to the safety of her old life, or embrace a powerful new destiny?
Oh Seraphina, where do I begin with this book? This is a massive 600 page ending to the Duology and it took a LONG while to finish! So much has happened and some of it was so good yet some of it was also just as disappointing.

Seraphina is a historical fantasy novel, and although it isn't my favourite genre, I truly enjoyed the first book. Shadow Scale, however, was a completely different story. It started off quite slow yet there were so many things going on its hard to see that this was all fit into one book, which could've easily been fit into two.
Normally, any book starts off slow and usually gets better as the book progresses towards this main goal at the end. This was also the case in Shadow Scale, yet I felt like the book just kept going downhill from where it started. What really frustrated me in the first book was that there wasn't much of a romance going on, so I went into Shadow Scale thinking ok we should at least get to see what would happen between these two characters. This however, never happened. Sure there was character development, yet it just seemed like the main lead was going through all these adventures with no real reasoning behind her goals. There is also the aspect of cheating in this book which I absolutely cannot tolerate and if you've read the book and know how it ends, then you should know how truly upset I was with it. I was willing to give this book about a 3/3.5 stars up until about the last 100 pages when everything just flopped. The characters I wanted to see more of, just disappeared, and there this was this constant battle between two characters that was just really really annoying. Just when the conflict looks like it's going to resolve, oh hey another problem arrises! This to me is just a sign of the author wanting to extend the length of the novel yet adding no strength to the story.
I do feel that this book should've been condensed to about half its size and

definitely

would've rather preferred a different route. It was a miracle getting through it, and although I love the writing of Rachel Hartman, I do have to say that to me, this book was a flop.