Today I've got sisters, book lovers, and authors Sarena and Sasha Nanua.
Here's a little bio for them:
Sarena and Sasha Nanua are twin authors. Their YA books(THE PENDANT TRILOGY: The Gemstone, The King's Jewel, The Poisoned Emerald) are available everywhere online. They love to read science fiction and fantasy novels. You can visit them online at their website, or their blog.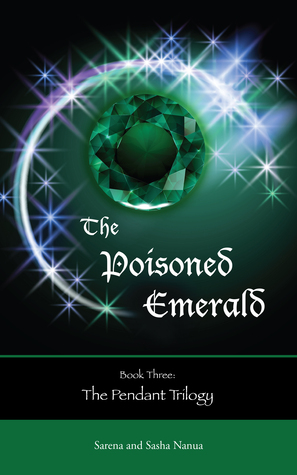 ARICA MILLER is thrilled to begin her sophomore year at Hill Valley Private Arts Academy. Little does she know that the prestigious school holds more hidden secrets than she'd anticipated-especially with the headmistress. After she accidentally comes into contact with a mysterious gemstone necklace, she receives strange hallucinations that connect to her family's past. Arica soon realizes that this is no regular necklace, but a necklace that contains power beyond her knowledge. And that's not all. Her world unwinds as she is absorbed with knowledge of a world of sorcery.
All dating up to Halloween night, Arica must face suspicious friends, monstrous creatures, and the truth of her family's connection with sorcery. But worst of all, she must face a powerful enemy keen on only one thing: the gemstones.
I decided to ask Sarena and Sasha if they would guest post about something that is relevant to this blog and us co-blogger sisters. I wanted them to talk about how they work together, be sisters, co-bloggers, and co-writers. Basically how's their writing process, and all things related!
Hey, guys! First off, we want to thank Maji Bookshelf for letting us guest post today. We love your blog and Booktube channel! And it seems fitting that we're both sister bloggers. But also, Sarena and I love to write together. We started writing when we were nine, so for half of our lives. Since a young age, we've loved books and soon wanted to write together. I know you might be thinking, 'Isn't it hard writing together?' But actually, we think it's easier than writing alone.
Now, when I say together, I mean, like, not physically beside each other. Because that can get a little awkward… and intimidating. So we both like to write scenes separately (usually we choose who writes what scene, and it tends to work out well), and then we'll show each other our work. We give each other advice on what to fix, and though we don't always agree, we usually—mostly easily—come to a consensus. Of course, we fight. Of course, we'll disagree on certain things. But not for too long, because writing is our one true passion, and nothing can stop us from continuing.
After having finally self-published our first novel The Gemstone, we made a blog that same year (2012). I can still distinctly remember having no idea on how to run a blog. Soon we figured it out, though, and working together has really put some of the load off each other's shoulders. Working alone—especially when writing—can be tough because there's no one there to critique your work. I mean, you can find friends or people on the internet you trust, but having a sister who understands the kinds of books you like to read really helps. That way it's like a quick trade off: I'll say, "Can you check this out?", then Sarena will read it over and edit for grammar while I steal a quick ten minutes of reading time. So overall, it's actually really helpful to have someone who enjoys and understands the kinds of things that I like. I'm not saying it makes the writing process any less painful (because let's admit it, every writer has some doubt in what they write, especially in those horrid first drafts), but it makes writing worth it in the end. To be able to share our involvement in writing truly makes it an unforgettable experience.
I like to ask authors and bloggers I interview these quick questions every reader is interested in! You can always tell what kind of reader you are by just knowing the answer to these questions:
Favorite book read in 2015
Sasha: Harry Potter and the Deathly Hallows
Current favorite tv show
Sasha: Survivor
Sarena: Once Upon a Time
Favorite book to movie adaptation
Sarena: Catching Fire
Upcoming new release most excited over
Sasha: Winter by Marissa Meyer
Sarena: The Sword of Summer (Magnus Chase #1) by Rick Riordan
Top 3 all time favorite books
Sasha & Sarena: Harry Potter, Percy Jackson, and Daughter of Smoke and Bone series