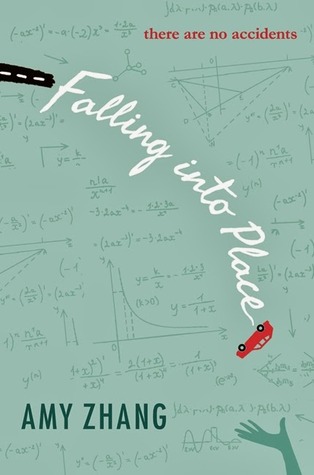 Title: Falling into Place
Author: Amy Zhang
Publisher:
HarperCollins Canada
Publication date: September 9, 2014
Genre(s): Young Adult (Contemporary)
On the day Liz Emerson tries to die, they had reviewed Newton's laws of motion in physics class. Then, after school, she put them into practice by running her Mercedes off the road.

Why? Why did Liz Emerson decide that the world would be better off without her? Why did she give up? Vividly told by an unexpected and surprising narrator, this heartbreaking and nonlinear novel pieces together the short and devastating life of Meridian High's most popular junior girl. Mass, acceleration, momentum, force—Liz didn't understand it in physics, and even as her Mercedes hurtles toward the tree, she doesn't understand it now. How do we impact one another? How do our actions reverberate? What does it mean to be a friend? To love someone? To be a daughter? Or a mother? Is life truly more than cause and effect? Amy Zhang's haunting and universal story will appeal to fans of Lauren Oliver, Gayle Forman, and Jay Asher.
Falling into Place is heartbreakingly real and beautiful at the same time. There is a mystery theme going through the book that keeps you guessing two things, 1) will Liz really die? 2) Who is the unknown narrator? Also, the nonlinear timeline works so well and Zhang does it in a way that keeps you wanting to flip the pages as quick as possible. I can't say I related to the main protagonist, Liz, but it doesn't mean her story isn't important to me. It doesn't mean I wasn't emotionally crippled after finishing the book. It doesn't mean that this book didn't impact my reality. Because it did, it seriously did.
The chapters jump between three different time lines: 1) weeks before Liz's suicide, 2) minutes before Liz's suicide, 3) After Liz's suicide. This type of storytelling was very powerful for this novel. Liz's world unravels to us in increments, little snippets here and there. Liz isn't a nice person, quite frankly, she's a bully. Her realization in the book is immediate, that is what actually propels her to commit suicide, sort of as a repenting to all the bad she's unleashed to the world. I can't say she's just the typical teenagers with a mean streak.. she really was a bully. I was horrified at some of the things her friends, and herself, did. However, Liz's inner struggle through all this was just as painful. There is an emotional rawness that Zhang delivers so well. My heart would literally ache reading this book. Liz's loneliness, her resolve to kill herself, and then her awful past of bullying. It was sometimes suffocating reading about it all.

People are so complicated, and you sometimes don't understand how they can be so spiteful, deliberately hurtful, and downright mean. Is it because they are inherently cruel? or is it their own inner struggles? the environment they grew up in? It is just scary.
Liz's friends also have their own secrets and some are just achingly sad. I wanted to shake them and tell them to get help or snap out of it. To wake up and look at themselves. To stop caring what people think of them and to strip away their popular masks. They are as screwed up, if not more, than everyone around them. I cried so much in the last 30 pages of the book. I was actually in a public bus and had to hide my face while I bawled my eyes out (This is not related to the ending, which I will give no hint on). Falling into Place tackled so many issues teenagers go through. This is a bittersweet book, definitely falling into the realistic fiction setting. Many people couldn't relate to the main protagonist but that's fine. You can't relate to every person you meet, and like I said, it doesn't mean their story isn't important to tell.