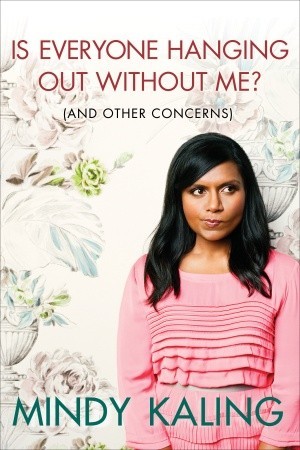 Title: Is Everyone Hanging Out Without Me? (And Other Concerns)
Author: Mindy Kaling
Publisher:
Random House Canada
Publication date: September 18, 2012
Genre(s): Non Fiction (Humor/autobiography)
Format:
Finished Copy (Paperback)
Mindy Kaling has lived many lives: the obedient child of immigrant professionals, a timid chubster afraid of her own bike, a Ben Affleck–impersonating Off-Broadway performer and playwright, and, finally, a comedy writer and actress prone to starting fights with her friends and coworkers with the sentence "Can I just say one last thing about this, and then I swear I'll shut up about it?"

Perhaps you want to know what Mindy thinks makes a great best friend (someone who will fill your prescription in the middle of the night), or what makes a great guy (one who is aware of all elderly people in any room at any time and acts accordingly), or what is the perfect amount of fame (so famous you can never get convicted of murder in a court of law), or how to maintain a trim figure (you will not find that information in these pages). If so, you've come to the right book, mostly!

In Is Everyone Hanging Out Without Me?, Mindy invites readers on a tour of her life and her unscientific observations on romance, friendship, and Hollywood, with several conveniently placed stopping points for you to run errands and make phone calls. Mindy Kaling really is just a Girl Next Door—not so much literally anywhere in the continental United States, but definitely if you live in India or Sri Lanka.
I love Mindy Kaling from The Mindy Project. I must admit I've only got to know her (through tv) from The Mindy Project and not The Office. I loved her role on The Mindy Project and only later found out she actually writes for the show and is also a producer (triple threat is right! < something Mindy mentioned in this book). When I knew she wrote an autobiographical/humor book, I HAD to get my hands on it. Now that I've read it, I am so so happy that I tracked it down and requested it from Random House Canada. I loved it so much and laughed.. out loud… in public… SEVERAL times.. I am not lying when I say my sister and my friend were embarrassed because I would spontaneously (in their eyes) burst out laughing in the middle of a cafe.
This book is all kinds of awesome. Mindy's humor is definitely not lost through her writing.. it might even be more prominent. I would reread so many paragraphs and get anyone beside me to listen to me. At one point I tried telling my sister about a chapter titled "Chubby Life" and I honestly had to take a break every word to laugh, to the point that I just passed her the book and pointed vaguely at the paragraph and continued laughing and wiping my tears. The way Mindy wove in her humor and still managed to pretty much tell us her life story is such a skill. I loved reading up more about her and learning about her rise from a babysitter with no health insurance to a permanent writer on The Office. Of course this book was published pre-The Mindy Project, so I was a little disappointed in that (my problem, not the book's) but she DOES have a new book coming out and I'm super excited for that.
I pretty much never read non-fiction, but I think I'm going to make an except for humor non-fiction.. at least if they are anywhere near as good as Mindy's book. Still, I feel like Mindy's humor is very unique and that's why I love her so much on her show. I can't recommend this book enough and I already have two people who are waiting in line to borrow this book from me. It is only 222 pages and they're all amazing.