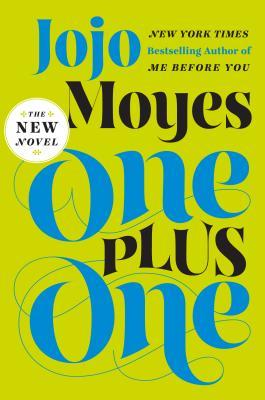 Title: One Plus One
Author: Jojo Moyes
Publisher: Penguin Canada
Publication date: July 1, 2014
Suppose your life sucks. A lot. Your husband has done a vanishing act, your teenage stepson is being bullied and your math whiz daughter has a once-in-a-lifetime opportunity that you can't afford to pay for. That's Jess's life in a nutshell—until an unexpected knight-in-shining-armor offers to rescue them. Only Jess's knight turns out to be Geeky Ed, the obnoxious tech millionaire whose vacation home she happens to clean. But Ed has big problems of his own, and driving the dysfunctional family to the Math Olympiad feels like his first unselfish act in ages . . . maybe ever.
One Plus One was fabulous, a perfect book with a well written plot line. I don't think I've ever read a chick lit road trip book. This is my first try at Jojo Moyes's writing and it is definitely not my last. The plot was refreshing and definitely unique in the way that the romance was presented as well as the issues the characters face and the relationship between them. It was told from multiple POVs that included the main protagonist, Jess, the love interest, tech millionaire Ed, Jess's math genius daughter and bullied step son.
Jess is trying to make ends meet with working two jobs and trying to keep her family afloat. Her husband left her two years ago and hasn't helped with child support because of his "illness" which is apparently depression? anyways, that's not where Jesse's problems end. Her step son is being bullied and beaten up on a weekly basis and her young daughter just got the best opportunity of her life, to go to a private school with a 90% scholarship. However the 10% is still too much money for Jess. The struggle she goes through, trying to figure out a way to make it work, the desperate feeling she experiences is very sad. I really felt sad for Jess, she really was a good mom. She wants the best for both her children, even though one of them isn't even her biological son and was dumped on her, something people that she meets always find confusing. Still, she treats them both equally and with so much love, it makes me teary eyed thinking about it.
Ed however, is in deep trouble. He did something stupid and is now being investigated and banned from getting near his company or touching any work related material. One night Ed was driving, trying to occupy his time before he goes full on crazy when he sees Jess and her kids on the side of the road, car not working, and police talking to them. Next thing we know, Ed is driving the whole family to Scotland. What's hilarious is that Tanzie, Jess's daughter, will throw up if she's in a car that's at a speed higher than 40 mile/hr. Also, another someone worth mentioning was the family dog. Even though he doesn't speak (obviously) he had a very big presence in this book and I loved him! The road trip was all kinds of hilarious scenes but witnessing all the people getting closer together, forming connections, trust, and leaning on each other really made me teary eyed multiple times. The relationship between Ed and the kids was especially sweet.
One Plus One was more about the people, their issues, and how leaning on each other and trusting each other and opening up your heart to them is sometimes what is missing in your life. Of course a romance in a chick lit is inevitable but I felt that Jojo Moyes focused more on each individual. Not that the romance wasn't good, because it was really well done. I Truly loved her writing and her storytelling style. I already own Me Before You and I am excited to pick it up. I'm definitely going to make it a goal of mine to go through her bibliography and read all her books.