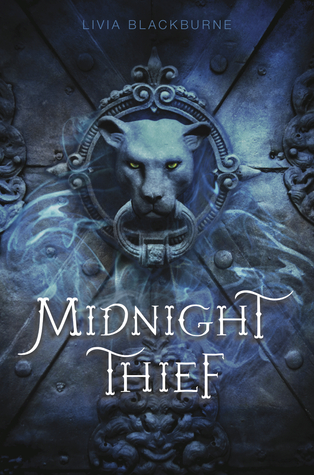 Title: Midnight Thief (Midnight Thief #1)
Author: Livia Blackburne
Publisher:
HBG Canada
Publication date: July 8, 2014
Genre(s): Young Adult (magic/fantasy/adventure)
Growing up on Forge's streets has taught Kyra how to stretch a coin. And when that's not enough, her uncanny ability to scale walls and bypass guards helps her take what she needs.

But when the leader of the Assassins Guild offers Kyra a lucrative job, she hesitates. She knows how to get by on her own, and she's not sure she wants to play by his rules. But he's persistent—and darkly attractive—and Kyra can't quite resist his pull.

Tristam of Brancel is a young Palace knight on a mission. After his best friend is brutally murdered by Demon Riders, a clan of vicious warriors who ride bloodthirsty wildcats, Tristam vows to take them down. But as his investigation deepens, he finds his efforts thwarted by a talented thief, one who sneaks past Palace defenses with uncanny ease.

When a fateful raid throws Kyra and Tristam together, the two enemies realize that their best chance at survival—and vengeance—might be to join forces. And as their loyalties are tested to the breaking point, they learn a startling secret about Kyra's past that threatens to reshape both their lives.
I went into Midnight Thief thinking it is historical and heavy on the politics, assassination, revolution. The main protagonist is a thief.. she steals for a living. One day someone approaches her, the leader of the Assassin's Guild and basically hires her. I got so so excited because I thought I would be a part of the conspiracies and the planning and revolutionizing. I thought this book would be epic in the sense that the main protagonist will turn into an assassin (thinking of Throne of Glass) and because kick butt and overthrow the current oppressive ruling. Unfortunately, I was completely wrong. Midnight Thief might have started at that, but it took a totally different direction and through in supernatural elements that I just wasn't that fond of.
Kyra and Tristam.. the two POVs in this book. I just.. I liked Kyra and I actually thought it was just told from her POV but a couple of chapters in, Tristam's POV emerges.. I thought it was a bit too late and I just was already partially invested in Kyra. Also the way he was introduced.. and come to think of it, the way the whole plot and world were introduced was so sudden and without much background information, something I've started to need in order to really enjoy my books. So while I felt the author didn't deliver as much in that perspective, I have to say I loved Kyra's relationship with the kids. Being an orphan herself, she always looked out for the orphan kids on the street and it really warmed my heart.
Also, Midnight Thief was hard to stay interested in.. I felt the writing wasn't as engaging and, I agreed with someone's review when they wrote that there's a lot of telling and very little showing in the book. It was a bit of a let down because I expected this to be fantastic and I didn't like the direction the author took with the plot, as I mentioned earlier. So point is, don't expect an epic fantasy when you read this. I did and was disappointed. I have to give the author props for going completely off course with the plot but I just didn't want that or like it. Even though I had some issues with this book, I still enjoyed it, hence the 3 star rating. I might pick up the sequel because I want to know the direction the author will take but this all depends on the next book's synopsis for me.