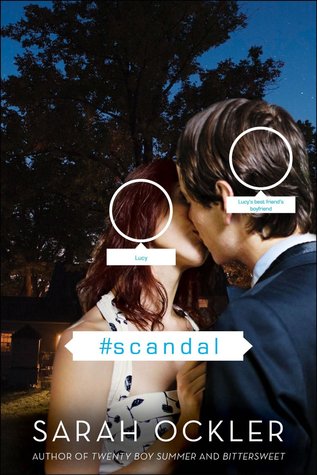 Title: #Scandal
Author: Sarah Ockler
Publisher:
Simon & Schuster
Publication date: June 17, 2014
Genre(s): Young Adult (Contemporary)
Lucy's learned some important lessons from tabloid darling Jayla Heart's all-too-public blunders: Avoid the spotlight, don't feed the Internet trolls, and keep your secrets secret. The policy has served Lucy well all through high school, so when her best friend Ellie gets sick before prom and begs her to step in as Cole's date, she accepts with a smile, silencing about ten different reservations. Like the one where she'd rather stay home shredding online zombies. And the one where she hates playing dress-up. And especially the one where she's been secretly in love with Cole since the dawn of time.

When Cole surprises her at the after party with a kiss under the stars, it's everything Lucy has ever dreamed of… and the biggest BFF deal-breaker ever. Despite Cole's lingering sweetness, Lucy knows they'll have to 'fess up to Ellie. But before they get the chance, Lucy's own Facebook profile mysteriously explodes with compromising pics of her and Cole, along with tons of other students' party indiscretions. Tagged. Liked. And furiously viral.

By Monday morning, Lucy's been branded a slut, a backstabber, and a narc, mired in a tabloid-worthy scandal just weeks before graduation.

Lucy's been battling undead masses online long enough to know there's only one way to survive a disaster of this magnitude: Stand up and fight. Game plan? Uncover and expose the Facebook hacker, win back her best friend's trust, and graduate with a clean slate.

There's just one snag—Cole. Turns out Lucy's not the only one who's been harboring unrequited love...
This book was so unexpected, I loved it so much! more than I thought I would. As soon as I read the synopsis I knew this book is for me. However I haven't loved Sarah Ockler's last two books (The Book of Broken Hearts and Bittersweet) that much. I did love Twenty Boy Summer which is why I was waiting for that magic to appear again, and I'm glad I picked #Scandal up because it did finally make a reappearance.
In #Scandal, the main protagonist, Lucy ends up going as the substitute date for Cole, her best friend's boyfriend, as a favor to her. Lucy doesnt want to because a. she'd rather be playing online and killing zombies with her virtual friends and b. she's had a crush on Cole ever since he moved to their town and feels uncomfortable doing this. Still, Lucy could never say no to her best friend and ended up going. This is when the book starts, at prom. Lucy tries to stay away from Cole but somehow Cole always sticks by her.. I thought that was absolutely adorable and totally showed me that Cole actually might like Lucy.. of course I completely condemn cheating in my books but the way this was presented (and more info you get later on in the book) had my heart softening towards the two. It's more complicated than just a kiss and initially while I thought those two obviously should end up together I was a bit peeved at the cheating aspect.. because even if it was a kiss and it was brief.. still.. cheating is a no no for me. So basically, trust me when I say that it isn't what it looks like.
Ok now that the cryptic talk is over, I can start making sense. So next day Lucy finds out that someone uploaded all the discretions of her classmates at the after prom party, including her kiss with Cole, on her Facebook page.. lo and behold.. turns out her phone is missing. Of course being set in high school and, no offense, most high schoolers being immature, no one listened to Lucy when she said she didn't upload the photos and why the hell would she sabotage her friendship to do that? Since no one believes her and her best friend isn't talking to her anymore, she sets off trying to find out who screwed her over.
So discussing the plot and characters, I loved all the characters. I loved Lucy, even though she is flawed, she really felt guilty about the kiss and didn't make up any excuse about it.. I also love her best friend.. she didn't turn into the mean girl and tried to ruin Lucy's life.. she was surprisingly very mature and civil about it.. my heart hurt for her. Then there's Cole.. I initially thought he would turn into a douche but he was so sweet and caring and brought up the whole issue of why should the girl always get the blame (people started slut shaming her) when he was an equal participant in the kiss. What's worse is that all the slut shaming came from the girls.. and again, Lucy's best friend brought up the topic of how would these girls feel if that was their sisters getting slut shamed and ridiculed? I just felt that on top of all the fluff, many issues of our current society regarding women and inequality were made aware of. There's also e(VIL) who are a group of high schoolers that think technology is a way the government is controlling them and shouldn't be used.. they're the ones that don't have phones.. don't use the internet, or have Facebooks.. and that believe technology is evil. I initially thought they were so weird and random.. but when I got to know them.. I just loved them.. especially when I found out that one of them is actually a hacker! like what? how does that even make sense? haha.
As for the mystery, I personally had an initial hunch that was buried but later it turned out to be just that.. so I was surprised by who did it. But this book isn't really about the mystery.. it is more about the character growth and the friends and how different people can become friends and live harmoniously together. It is about people who make mistakes but try to make up for them.. about people that are wronged but try to forgive. It is about being honest and not making excuses for yourself or others.. it is truly about being human as well as the best person you can be. So overall I think #Scandal was a very fun and hilarious read but it also conveyed some important messages for our current society.