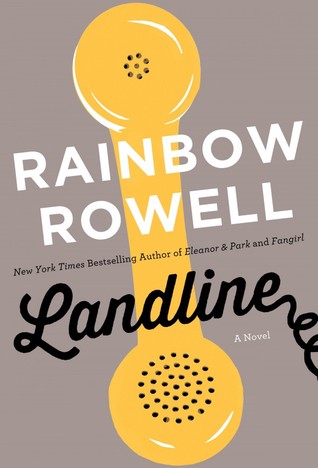 Landline by Rainbow Rowell
Raincoast
July 8, 2014
4/5 stars
Source: Publisher (eARC)
Goodreads
| Amazon | B&N | Indigo
I picked up Landline very early on, maybe April? because I needed a book I knew I was going to love and I know Rainbow Rowell's writing and books always succeed in doing that. Bottom line, I loved Landline. It was very unique and totally addicting and I found the plot very fascinating. It had my brain going on overdrive trying to understand it all and I loved how it literally bent time in a why that makes you go in a loop. You'll understand me when you read the book. I thought the main protagonist, Georgie to be very interesting. I especially loved how she got to meet her now husband, Neal. It wasn't the explosive kind of love we usually get in books. It was very realistic but sweet. Fast forward to now, with two kids, a full time job, and a husband who's now a stay at home dad, the tension between them is high. Mainly because Georgie has no time for her family, it gets really bad when she has to flake on spending christmas week with them. Neal decides to go ahead with the plans and takes their two daughters to his family's home. This is when the story starts. One day Georgie's phone's battery dies and she takes her mom's home phone (after she decides to sleep over) and calls his home number. But who ends up picking up is Neal from the past. There is one thing that really bugged me and it is that Georgie wasn't able to get in touch with 'current' Neal through out the whole novel. How does that even make sense? she calls but either her daughters pick up or his mom. She tells them to ask Neal to call back, they agree.. but he never does. Also, he's always unavailable or outside when she calls. I grew really agitated and frustrated the more this happened. Another thing is how long it took for Georgie to figure out that there's something very weird with her old yellow phone. I know from the beginning this phone magic is going to happen.. why prolong it? still.. I really really enjoyed this novel. Those issues I had with it don't compare to how fantastic the writing was as well as the progression of the novel and the idea itself. While I don't love Landline as much as Eleanor & Park and even Fangirl, I still highly enjoyed it and I'm very excited to read Attachments, which is her other adult contemporary novel, her only book of hers.
Also, check a clip of the audiobook of Landline, which is available by Macmillan Audio!
The Things You Kiss Goodbye by Leslie Connor
Harper Collins
This book was definitely unexpected. I thought it was a light hearted read but then I was given some warning that it isn't.. still, I didn't expected it to be this heavy laden with such issues. One of these issues is physical abuse.. basically an abusive relationship. The main protagonist's family is very very strict, as in her dad doesn't allow her to even stay after school unless it is mandatory. No hanging out friends, making spontaneous plans, or even owning a phone. Then she meets a boy.. and somehow by some miracle her dad approves of him. He's sweet, shy, adorable, and just perfect. I even gave her my approval. However once summer ends.. he changes. He becomes more popular in school because of his Jock status and that's when we start seeing how much he changed.. how much crueler and a bad boyfriend cliche he's become. I felt so sorry for Bettina and didn't understand why she kept on making up excuses for the way he treats her. For God's sake, he crushes her fingers once! slams the locker door on her head.. ugh.. I was repulsed by him.. I wanted to smash HIS head agains a locker door.. but Bettina is so innocent and scared that her dad might find out and then the I told you sos would emerge and he'll become even stricter. However she finds a haven for herself at Cowboy's garage. He's much older but so sweet and thoughtful and caring. I loved him. I loved the time Bettina spent with him. However then comes the tragedy and I literally cried buckets of tears. This book really broke me. Even though I was so frustrated with it at times and I wasn't fully engaged with the writing, I forgave it all because of that twist. That heart wrenching twist that definitely got my attention. Don't expect a bow tie ending.. you'll be disappointed.. but expect a realistic ending. YA books don't sugar coat life.. and this book proves this.