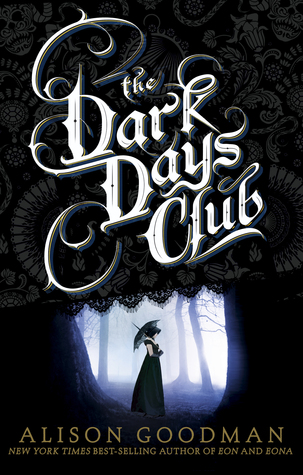 T
itle:
The Dark Days Club (Lady Helen, #1)
Publisher:
Penguin Canada
Publication date: January 26, 2016
Genre(s): Young adult, fantasy, historical
London, April 1812. On the eve of eighteen-year-old Lady Helen Wrexhall's presentation to the queen, one of her family's housemaids disappears-and Helen is drawn into the shadows of Regency London. There, she meets Lord Carlston, one of the few who can stop the perpetrators: a cabal of demons infiltrating every level of society. Dare she ask for his help, when his reputation is almost as black as his lingering eyes? And will her intelligence and headstrong curiosity wind up leading them into a death trap?
The Dark Days Club is a story that has interwoven genres embedded in the plot and a fantastic and kick butt heroine. I love books that have multiple genres infused in them and some of the ones in The Dark Days Club include historical, fantasy, supernatural, and paranormal. I always find it so exciting when the genre lines are blurred and if the author handles it well, the book will become a very enjoyable and memorable one, exactly what The Dark Days Club was to me.
This book is almost 500 pages. That is long for me. I ended up buddy reading it with Giselle at Book Nerd Canada and we took our time with it. We both agreed that we enjoyed the book so much more because we took our time with it, were able to spend time processing everything and then discussing each part with each other. The first half of The Dark Days Club pretty much introduced everything to us. It left us in the dark many times and while I needed to find out what all these small mysteries are, I wasn't that bothered by it. The reveal of each mystery was done slowly and really well.
The main protagonist, Helen, lives with her uncle and aunt, since her parents died when she was young. There is a stigma surrounding her family's name because her mother was believed to have betrayed her country (being a spy was one of the rumours). Helen is in fact someone who possesses power, like her mother, to fight off the demons of this world. She is swept into this dark and scary reality of demons, demon hunting, and Lord Carlston, a man believed to have murdered his wife but she now knows is also a demon hunter. I loved how smart Helen was and wasn't a follower. She questioned everything and stuck to her morals and beliefs. I also liked her bickering relationship with Lord Carlson and the very slow romance between them. There are some fantastic secondary characters but this story is Helen's so the focus is mostly on her. While The Dark Days Club was very slow paced, if you're not in a hurry to just finish a book but really want to take your time to enjoy it, I suggest you pick it up. Also, the last quarter of the book is what sold me on everything.. and the last chapter? I now need the second book. I can't wait until the sequel comes out and I can dive back into this world. I like that there was a turning point in Helen's life at the end of the book and I'm excited to see how she does now in a completely different setting and where the rules of the game have changed.