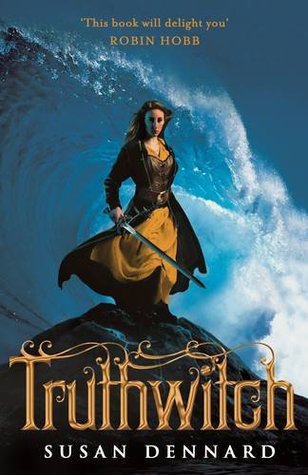 T
itle:
Truthwitch (The
Witchlands
, #1)
Publication date: January 14, 2016
Genre(s): Young adult, fantasy
On a continent ruled by three empires, some are born with a "witchery", a magical skill that sets them apart from others.
In the Witchlands, there are almost as many types of magic as there are ways to get in trouble—as two desperate young women know all too well.
Safiya is a Truthwitch, able to discern truth from lie. It's a powerful magic that many would kill to have on their side, especially amongst the nobility to which Safi was born. So Safi must keep her gift hidden, lest she be used as a pawn in the struggle between empires.
Iseult, a Threadwitch, can see the invisible ties that bind and entangle the lives around her—but she cannot see the bonds that touch her own heart. Her unlikely friendship with Safi has taken her from life as an outcast into one of reckless adventure, where she is a cool, wary balance to Safi's hotheaded impulsiveness.
Safi and Iseult just want to be free to live their own lives, but war is coming to the Witchlands. With the help of the cunning Prince Merik (a Windwitch and ship's captain) and the hindrance of a Bloodwitch bent on revenge, the friends must fight emperors, princes, and mercenaries alike, who will stop at nothing to get their hands on a Truthwitch.
Truthwitch
lived up to the hype. However I am a person who isn't influenced or really care about the hype but I'm glad it lived up to it, nonetheless. I was so completely immersed in the fantasy world and
would
look forward to picking up and continuing my journey with Safi and Iseult whenever I put the book down.
Truthwich is unique in that the main relationship is the
friendship
between Safi and Iseult. They care for each like
sisters
, and would sacrifice themselves for the other. It was
just
so refreshing to have a storyline
centred
around friendship instead of romance. Both Safi and Iseult complete each other. Safi is the more adventurous and wild one while Iseult is the more reserved yet the one who plans things. Safi is a
truthwitch
, but that's something only few people know since Truthwitches have been hunted down for as far as anyone knows. Iseult is a
threadwitch
but she's not really that.. and you get to
unravel
her story as you read more.
Truthwitch
is
definitely
an adventure book. The girls are always running from
something
whether
it is a
bloodwitch
an entire army of an opposing kingdom. On horseback, on foot, on ships.. basically the girls do a crap load of running away with a crap load of exciting fighting and adrenaline pumping scenes. One thing I enjoyed about Truthwitch is its
unpredictability
.. they didn't really have an overall goal they must reach. You didn't know where the book is going or the fate of the characters. I know this
uncertainty
confused people but I'm glad this was how it was written because let's be real, a ton of books I
end
up reading I can already predict the ending.
Lastly, I love the world that Dennard built. We get to see a glimpse of it during Truthwitch, where a 20 year
peace
treaty is about to end and all the different kingdoms are shaking each other's hands while preparing for war behind closed doors. A last thing is that I appreciated that these two girls weren't really "chosen ones".. and if they are, no one really knows that, including themselves. Yes, they will play important roles in this world and story, but everything is unclear and I like that. I can't wait to pick up the sequel and continue the journey of Safi and Iseult.