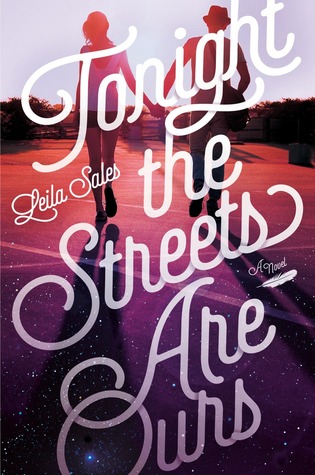 Title: Tonight the Streets are Ours
Author: Leila Sales
Publisher:
Raincoast Canada
Publication date: September 15, 2015
Genre(s): Young Adult (Contemporary)
Recklessly loyal.




That's how seventeen-year-old Arden Huntley has always thought of herself. Caring for her loved ones is what gives Arden purpose in her life and makes her feel like she matters. But lately she's grown resentful of everyone—including her needy best friend and her absent mom—taking her loyalty for granted.




Then Arden stumbles upon a website called Tonight the Streets Are Ours, the musings of a young New York City writer named Peter, who gives voice to feelings that Arden has never known how to express. He seems to get her in a way that no one else does, and he hasn't even met her.




Until Arden sets out on a road trip to find him.




During one crazy night out in New York City filled with parties, dancing, and music—the type of night when anything can happen, and nearly everything does—Arden discovers that Peter isn't exactly who she thought he was. And maybe she isn't exactly who she thought she was, either.



I am a huge fan of Leila Sales' This Song Will Save Your Life. It really resonated with me in a way I didn't think was possible. I felt Leila Sales did such a tremendous job in making this book all about the main protagonist's journey to accepting and loving herself without the need for any significant other in the picture or someone that was necessary to validate her self worth. I expected just as much from her new novel, Tonight the Streets are Ours. While I wasn't hooked on the plot, I had faith in Leila Sales' writing and story telling so I gave it a shot.
By the time I reached the ending, I would have been able to 100% be able to tell this is a Leila Sales book even if I didn't know who the author was. I think may girls should definitely pick up her books because I feel the way her characters make mistakes, learn from them, and grow from those experiences too. Arden was a very

likeable

but flawed character. I never understood why she stuck with her boyfriend when the way he's been treating her leaves much to be desired.. however I do understand that they've been together for long and that might make you hold on to things that just aren't good for you anymore. I loved how Arden wasn't a character who wanted to be in the spotlight, she loves theatre but as the backstage manager, not the actor, and I found it amusing

how everyone

kept on

wishing

and telling her that her time to act will come up soon if she keeps up the good work, but she doesn't ever have the desire to act and is content where she is. I love Peter too and the blog posts he wrote; they made me want to meet him as soon as

possible

.
I did feel that it took too long for the plot to catch up to what the synopsis promised, and if you know me and have read more of

my

reviews, you know that I

dislike

it when the synopsis gives away too much and the book takes

at least

100 pages to catch up. That's why I kept on waiting

and

waiting for the road trip to finally start and for Arden to finally start looking for Peter. However once that happened (which begins part two) the events are basically told in a day or two, which I really enjoyed because it was fast paced which I started to enjoy much more. I definitely recommend Tonight the Streets are Ours to any young adult contemporary fan, especially ones who don't care much for romance in their books.