Title:
The Last Time We Say Goodbye
Expected Release:
February 10
Synopsis:
The last time Lex was happy, it was before. When she had a family that was whole. A boyfriend she loved. Friends who didn't look at her like she might break down at any moment.
Now she's just the girl whose brother killed himself. And it feels like that's all she'll ever be.
As Lex starts to put her life back together, she tries to block out what happened the night Tyler died. But there's a secret she hasn't told anyone-a text Tyler sent, that could have changed everything.
Lex's brother is gone. But Lex is about to discover that a ghost doesn't have to be real to keep you from moving on.
Thoughts:
From reading the synopsis, we already know that this is going to be a sad book. These can generally be a hit or miss but I have a feeling this will be a good one. I'm really intrigued to see how the story goes but I know this is definitely my kind of book and anyone else who loves a good sad story!
Title:
All The Bright Places
Expected Release:
January 6
Synopsis:
Theodore Finch
is fascinated by death, and he constantly thinks of ways he might kill himself. But each time, something good, no matter how small, stops him.
Violet Markey
lives for the future, counting the days until graduation, when she can escape her Indiana town and her aching grief in the wake of her sister's recent death.
When Finch and Violet meet on the ledge of the bell tower at school, it's unclear who saves whom. And when they pair up on a project to discover the "natural wonders" of their state, both Finch and Violet make more important discoveries: It's only with Violet that Finch can be himself—a weird, funny, live-out-loud guy who's not such a freak after all. And it's only with Finch that Violet can forget to count away the days and start living them. But as Violet's world grows, Finch's begins to shrink.
Thoughts:
A cross-over between Eleanor & Park and The Fault In Our Stars? Yes please! And it's being made into a movie? Yes yes yes!!! A million times yess! The Fault In Our Stars is probably one of my all time favourite books and if this book is anything similar I will most definitely be picking it up!
Title:
The Night We Said Yes
Expected Release:
June 16
Synopsis:
Before Matt, Ella had a plan. Get over a no-good ex-boyfriend. Graduate from high school without any more distractions. Move away from Orlando, Florida, where she's lived her entire life.
But Matt—the cute, shy, bespectacled bass player who just moved to town—was never part of that plan.
And neither was attending a party that was crashed by the cops just minutes after they arrived. Or spending an entire night saying "yes" to every crazy, fun thing they could think of.
Then Matt abruptly left town, and he broke not only Ella's heart but those of their best friends, too. So when he shows up a year later with a plan of his own—to relive the night that brought them together—Ella isn't sure whether Matt's worth a second chance. Or if re-creating the past can help them create a different future.
Thoughts:
The moment I finished reading the synopsis of this book, I knew I was going to get my hands on this one way or another. I absolutely adore these friendship type contemporaries and this book sounds amazing. It reminds me a lot of Since You've Been Gone by Morgan Matson, so I really hope it'll be just as great. June couldn't come any faster!
Title:
Vanishing Girls
Expected Release:
March 10
Synopsis:
Dara and Nick used to be inseparable, but that was before the accident that left Dara's beautiful face scarred and the two sisters totally estranged. When Dara vanishes on her birthday, Nick thinks Dara is just playing around. But another girl, nine-year-old Madeline Snow, has vanished, too, and Nick becomes increasingly convinced that the two disappearances are linked. Now Nick has to find her sister, before it's too late.
Thoughts:
Since meeting Lauren last September for her release of Rooms, I got to see a little preview of the cover of this book and I've been keeping an eye out for this ever since! Lauren Oliver is one of my favourite authors so regardless of how good it is, I know I'll be getting my hands on this!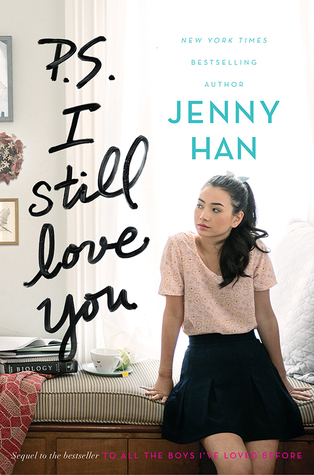 Title:
P.S. I Still Love You (To All The Boys #2)
Expected Release:
May 26
Synopsis:
Lara Jean didn't expect to
really
fall for Peter.
She and Peter were just pretending. Except suddenly they weren't. Now Lara Jean is more confused than ever.
When another boy from her past returns to her life, Lara Jean's feelings for him return too. Can a girl be in love with two boys at once?
Thoughts:
I absolutely LOVED the first book and basically anything written by Jenny Han. To All The Boys has become one of my all time favourites! I will definitely be buying this book on release day (or hopefully sooner?). If you haven't picked up the first book, go ahead and do so, you won't be disappointed.
.
.
.
What are your most anticipated releases of 2015? Any of the ones
I just mentioned in this post?