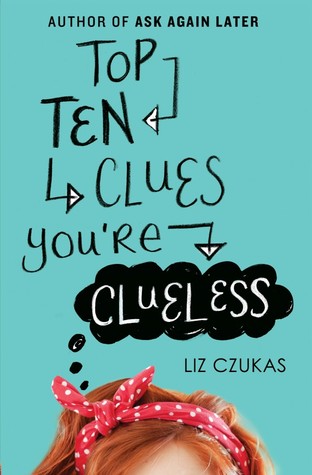 Title: Top Ten Clues You're Clueless
Author: Liz Czukas
Publisher:
HarperTeen
Publication date: December 9, 2014
Genre(s): Young Audult (Contemporary)
Top Five Things That Are Ruining Chloe's Day

5) Working the 6:30 a.m. shift at GoodFoods Market
4) Crashing a cart into a customer's car right in front of her snarky coworker Sammi
3) Trying to rock the "drowned rat" look after being caught in a snowstorm
2) Making zero progress with her crush, Tyson (see #3)
1) Being accused—along with her fellow teenage employees—of stealing upwards of $10,000

Chloe would rather be anywhere than locked in work jail (aka the break room) with five of her coworkers . . . even if one of them is Tyson. But if they can band together to clear their names, what looks like a total disaster might just make Chloe's list of Top Ten Best Moments.
This book was all kinds of cute! I read Ask Again Later early this year and really enjoyed it so I had to pick up Czukas' sophomore novel, Top Ten Clues You're Clueless. The synopsis sounded hilarious! locked in work jail? having all the supermarket to yourself? and with a couple of people you don't know and one is your crush? It was a load of fun!
I loved the main protagonist, Chloe. She really stands out in terms of contemporary main characters for me. She is diabetic (and Czukas really knew her stuff, trust me, I've done research on diabetes and artificial pancreas systems for a while). She is also a notorious list maker.. i mean she is pretty obsessed with it. I loved how each chapter began with a list she either literally wrote down or made in her head. Some of those lists were hilarious and I ended up sending to my friend for some good laughter. The one I liked the most was "Top Ten Worst Mom Phrases". More than one of those applied to my mother.
The mystery element in this book, even though it was very light, was also very entertaining. I really wanted to know who stole the money and didn't suspect anyone too much. It was a great addition to a romantic contemporary. I think the whole novel centers more around the friendship forged between the six teens than the romance or the mystery. It really warmed my heart. Each character was very unique and I totally was able to tell them apart from the beginning (you know how that's sometimes hard to do?). I definitely recommend it to all contemporary fans and fans who want a light hearted read that centers more on friendship.