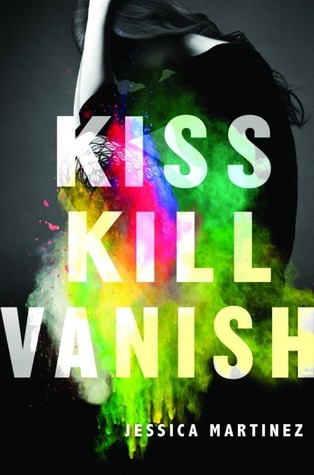 Title: Kiss Kill Vanish
Author: Jessica Martinez
Publisher:
HarperCollins Canada
Publication date: October 7, 2014
Genre(s): Young Adult (Contemporary)
Valentina Cruz no longer exists.

One moment, she was wrapped in Emilio's arms, melting into his kiss. The next, she was witnessing the unthinkable: a murder in cold blood, ordered by her father and carried out by her boyfriend. When Emilio pulled the trigger, Valentina disappeared. She made a split-second decision to shed her identity and flee her life of privilege, leaving the glittering parties and sultry nightlife of Miami far behind.

She doesn't know how to explain to herself what she saw. All she knows now is that nothing she believed about her family, her heart, or Emilio's love, was real.

She can change her name and deny her past, but Valentina can't run from the truth. The lines between right and wrong, and trust and betrayal, will be blurred beyond recognition as she untangles the deceptions of the two men she once loved and races to find her own truth.
I must admit. I have had friends who read Kiss Kill Vanish and weren't impressed. I try not to let other people's opinions affect me in regards to judging a book I haven't read but I have to say I do become wary of the book. I wished I didn't request it for review but still, I tried emptying my pre-reading judgements and started it. I must say, I was surprised! The beginning is slow. That is a given. The author took a while trying to set up everything and get the ball rolling.. still, I wasn't bored or disliked the protagonist. It's funny how I actually really liked Valentina. I loved the plot and thought it was addicting. I especially loved all the well crafted twists. Even I, someone who loved mysteries and usually solves them rather quickly, wasn't able to see the twists coming my way.
To spare you the details, Valentina witnessed her boyfriend kill someone in cold blood when her dad ordered him to do so. She couldn't take it and fled. She found out her father is pretty much a drug lord, trafficking drugs and making millions and millions of dollars. Valentina decides to runaway and goes to Montreal (she lived in Florida). I felt, for such a pampered sheltered rich girl, she did fairly well. She barely complained and wasn't naive. She didn't have a misconception that everything should come to her easily because that's how it has always been. She lived in a closet sized room with other people and worked as a model for a rich guy. Yea it seems fishy, but let's be real, someone like her can't do manual labor! I do understand that about her. Heck, I've never had a job which has more to do with our culture where the parents take care of the kids and kids shouldn't be worrying about money than my family or all arabs/muslims being rich. So I get why some people think she's too sheltered and should look at reality and get an actual job.. this is easier said than done.
The romance in this book.. guys it is so unpredictable and I LOVED IT TO PIECES. THANK YOU THANK YOU Jessica Martinez for finally letting an underdog win the girl. THANK YOU for finally making my guy bias win the girl. I don't want to mention which guy I'm talking about (because there are several, though NO love triangle (square?) at all). All I can say is that I was very very happy with the romance.
The last is the plot and plot progression. As I mentioned earlier, the beginning was slow, that's the reason why I took half a star off. It took 100 pages to really get into the novel and get hooked. However after the 100 page mark, things got crazy with a capital C. I'm not even kidding. Deaths, conspiracy, murder plotting, ambushing, everything you can think of. It was so addicting. however there are also the sweet moments with Valentina and another person that I can't help but gush about. All in all, this book took me by complete surprise and I loved it. I couldn't stop reading it and ended up marathoning the last 250 pages on a friday night. Kiss Kill Vanish is definitely worth the buy and read!