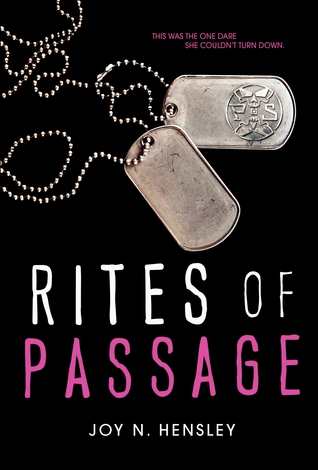 Title: Rites of Passage
Author: Joy N. Hensley
Publisher:
HarperCollins Canada
Publication date: September 9, 2014
Genre(s): Young Adult (Contemporary)
Sam McKenna's never turned down a dare. And she's not going to start with the last one her brother gave her before he died.

So Sam joins the first-ever class of girls at the prestigious Denmark Military Academy. She's expecting push-ups and long runs, rope climbing and mud-crawling. As a military brat, she can handle an obstacle course just as well as the boys. She's even expecting the hostility she gets from some of the cadets who don't think girls belong there. What she's not expecting is her fiery attraction to her drill sergeant. But dating is strictly forbidden and Sam won't risk her future, or the dare, on something so petty...no matter how much she wants him.

As Sam struggles to prove herself, she discovers that some of the boys don't just want her gone—they will stop at nothing to drive her out. When their petty threats turn to brutal hazing, bleeding into every corner of her life, she realizes they are not acting alone. A decades-old secret society is alive and active… and determined to force her out.
At any cost.

Now time's running short. Sam must decide who she can trust...and choosing the wrong person could have deadly consequences.
It's really hard for me to write this review and i've been putting it off because I find it really really hard to express my thoughts on a book I loved so much. However it's 12:40am right now and enough is enough, this review is getting written and I hope it does Rites of Passage justice.
Let me start off by writing that if you are a 90s kid and watched Disney, then you probably have seen the tv movie Cadet Kelly. This was one of my favorite movies because I was so fascinated by the military school and all the training and, yes I have to admit, all the cool clothes Hilary Duff wore. As soon as I found out Rites of Passage existed, I put it on my wish list and priority TBR. I'm mentioning this to let you know I had more than average expectations for it.. honestly? they were pretty high expectations. BUT, Rites of Passage didn't just meet them, but totally exceeded them all. Everything about this book was exciting, fast paced, and addicting. Everything was working for this book, starting with the unique setting and plot line.
Sam is a military brat, what that means is that she grew up in a family of military people. In her case, her dad, and her two older brothers are in the military. However, one of her brothers is dead but before he passed away, he dared her to enroll at the DMA, short for the Denmark Military Academy. You see, the DMA finally *eye roll* opened up its doors to females. We are in the 21st century and women are still discriminated against. sheesh. Don't throw a party yet though because barely anyone is happy about this huge change at the prestigious military academy, because women are going to bring down your standards *snorts*. Anyways, Sam enrolls along with four other girls. The book opens up with her traveling in the car with her parents to the school. That chapter will hook you, I guarantee it. One of the welcome military upperclassmen tries to flirt with her before he knew who she was and he got burrrrrnt (her dad is very high up in the military).
Sam's attitude was what made most of this book for me. She's kick butt, brave, strong, smart, and an all around awesome person. She obviously knew what she was getting into by signing up at the DMA and she never once complaint, even through monologues, about how hard or unfair she was getting treated. And she was.. getting treated unfairly even compared to the girls. Ever heard of people trying too hard to NOT show favoritism but end up discriminating instead? yea that happened to her. The hazing and harsh treatment of some upperclassmen gets so bad I would wince sometimes during some scenes. Still, I loved her comradeship and her "never give up" attitude. The secret society mystery is also very interesting and I was on my toes trying to figure out what their next move is against the girls and their tries at kicking them out.
Lastly is the romance, and we hit the jackpot with this book! I've mentioned in earlier reviews how I've started to ignore the romances in YA books because many are cliches and made from the same typical mold? well, the romance in Rites of Passage breaks that mold *hallelujah*. I loved everything about the love interest, Drill, and ah, I had my own swoon moments thinking of him! Hensley never let the love interest become the typical YA savior. There was a sense of equality between him and Sam's relationship that I really appreciated. One thing I must mention is the ending. I know many people say it is too open ended to their liking since there isn't a sequel (as of yet, go buy the book!!), however I loved it. It gave me enough closure but at the same time, hinted at what is to come. The lives of people don't stop after the end of the book so it would seem weird that a corrupt secret society would get cleaned up and the people would get over their sexism. That hasn't even happened in the real world!
If you want a unique setting with a kick butt protagonist, a mystery, a secret society, hazings, and witnessing military training life, then Rites of Passage is just the book for you. I am already itching for a reread but I'm going to wait until my beautiful finished copy is in my possession before reading it again (hint: it is worth buying even though I've already read it).