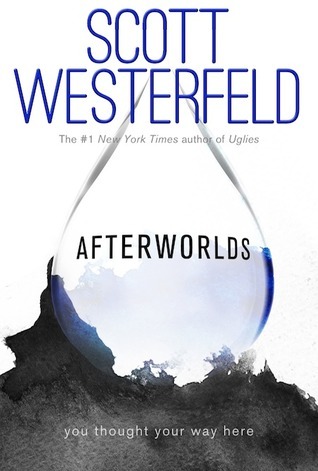 Title: Afterworlds
Author: Scott Westerfeld
Publisher:
Simon & Schuster Canada
Publication date: September 23, 2014
Genre(s): Young Adult (Contemporary/Paranormal)
Darcy Patel has put college and everything else on hold to publish her teen novel, Afterworlds. Arriving in New York with no apartment or friends she wonders whether she's made the right decision until she falls in with a crowd of other seasoned and fledgling writers who take her under their wings…

Told in alternating chapters is Darcy's novel, a suspenseful thriller about Lizzie, a teen who slips into the 'Afterworld' to survive a terrorist attack. But the Afterworld is a place between the living and the dead and as Lizzie drifts between our world and that of the Afterworld, she discovers that many unsolved - and terrifying - stories need to be reconciled. And when a new threat resurfaces, Lizzie learns her special gifts may not be enough to protect those she loves and cares about most.
I was initially very intrigued by Westerfeld's book. There was so much hype around it and i have to admit I, in turn, started lusting after it. When I got an ARC from Simon & Schuster Canada, I was over the moon. It is intimidating, at 600 pages, but I started it. I loved the concept of the main protagonist being a soon to be debut author publishing a novel that we also get to read. The first chapter opens with the main protagonist, Darcy, dissecting the query letter she wrote and sent that got her the two book deal. The second chapter though, that chapter is one of the best beginnings in a novel I've ever read. It is technically the first chapter in Darcy's novel. It hooked me. I was addicted and I wanted more.
I had so much expectations for Darcy's novel but I have to admit, it went downhill from the first chapter. I am not a huge fan of paranormal novels, so it takes a lot for me to praise one. Unfortunately, Lizzie's story (Darcy's protagonist), did not impress. It was a very cliche paranormal novel and by halfway I was just not interested and only read to go back to Darcy's world (it is told in alternating chapters). Darcy, however, was very interesting. Being a blogger and more involved in the whole publishing process, it was so exciting seeing Darcy going through it. I am not an aspiring writer but I feel people who are would get sucked into Darcy's world even more than I did.
I have to admit though that Darcy as a character frustrated me. Her sister, Nisha, calculated a budget for her to stay within based on the advance she received from the publishing company, however from the get go, as soon as Darcy moved to New York, she completely ignored the budget. I was wincing every time she overspent, bought a plane ticket, or forgot something important. Girl don't be so careless and irresponsible! I am more of a Nisha so that's why that really frustrated me.
One thing I wished for is if Westerfeld made Darcy write a mystery thriller instead of a paranormal one. There is a bit of a mystery in the paranormal and I can honestly say that was the only thing that kept me going. A thriller would have suited that book SO WELL. I even mentioned it to the person I was buddy reading Afterworlds with and she completely agreed. It would have definitely alleviated the book in my eyes. Afterworlds wasn't bad, it had its good and bad moments. I feel the infusion of the publishing process will definitely capture the eyes of many readers.