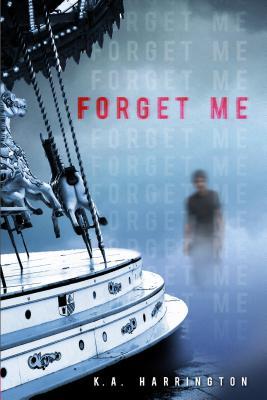 Title: Forget Me
Author: K. A. Harrington
Publisher:
Penguin Canada
Publication date: August 7, 2014
Genre(s): Young Adult (Contemporary/Mystery)
On the three-month anniversary of her boyfriend Flynn's death, Morgan uploads her only photo of him to FriendShare to get some closure—but she's shocked when the facial recognition software suggests she tag him as "Evan Murphy." She's never heard of Evan, but a quick search tells her that he lives in a nearby town and looks exactly like Flynn. Only this boy is very much alive.

Digging through layers of secrets and lies, Morgan is left questioning everything she thought she knew about her boyfriend, her town, and even her parents' involvement in this massive web of lies.
Forget Me started off really really good, very mysterious but kept on the contemporary feel. The intro was very creepy and it made me want to read more. I really liked the main protagonist, Morgan as well as her best friend, they both were logical and were very realistic (i.e.: didn't jump to outrageous conclusion, etc). However when the romance element of the story was introduced.. it kind of slowed the book down.
Let's backtrack a bit. This story is about Morgan finding out on a Facebook like social media site a guy who looks exactly like her dead boyfriend.. as in, he could be his doppelgänger. Both Morgan and her best friend devise a plan to meet him face to face, which Morgan does. Before then, I enjoyed all the theories that kept on getting thrown between the two girls. I was just as creeped out as them and I liked how they didn't take seriously some of the absurd theories they threw at each other. However I felt the mystery with her parents was sort of random as well as Morgan's passion for photography. It was heavily mentioned in the book and while I'm all for creating three diminutional characters.. I would have thought with the amount of photography talk that maybe Morgan took an incriminating picture or the clue to solving this whole mystery.
Forget Me was a solid four star read though until the romance emerged. I'm confused on how Morgan can suddenly start crushing hard and falling in love with a guy who looks exactly like her dead boyfriend. That's just weird and not something I was able to get past. Also, the insta-love.. I understood later on why it happened.. I mean he looks exactly like her old boyfriend, but still.. not something I was completely comfortable with. As for the mystery, it was pretty good and exciting up until the mystery was actually revealed.. I expected something mind blowing or at least worthy of the build up but unfortunately I was let down by it. I won't say more in regards to why but my expectations because of the mystery atmosphere the author has created was a bit too high.
Overall I did enjoy the book, but it wasn't one without issues. It is a quick read and interesting, with the first half of the book being more exciting than the second. I would recommend it to mystery fans mainly because I wasn't really able to predict the mystery (even if it was disappointing). I like Morgan and thought she was pretty kick butt and reminded me slightly of Veronica Mars with her love for photography. Forget Me was fun to read and a good mystery, definitely pick it up if you're interested.