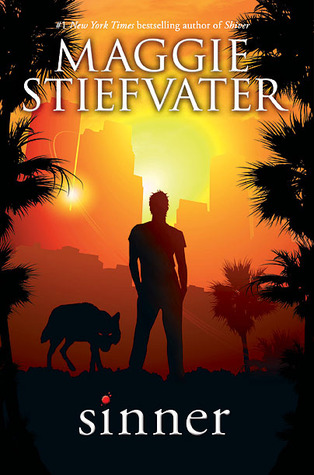 Title: Sinner
Author: Maggie Stiefvater
Publisher:
Scholastic Canada
Publication date: July 1, 2014
Genre(s): Young Adult (Paranormal)
Sinner follows Cole St. Clair, a pivotal character from the #1 New York Times bestselling Shiver Trilogy. Everybody thinks they know Cole's story. Stardom. Addiction. Downfall. Disappearance. But only a few people know Cole's darkest secret -- his ability to shift into a wolf. One of these people is Isabel. At one point, they may have even loved each other. But that feels like a lifetime ago. Now Cole is back. Back in the spotlight. Back in the danger zone. Back in Isabel's life. Can this sinner be saved?
I loved Sinner so much. Way way more than I thought I would. I read the Wolves of Mercy Falls trilogy back before I even know what YA meant. So I was pretty fuzzy about the details of that trilogy and worried I would need to read recaps before starting Sinner but I can tell you that you don't even need to read the trilogy to enjoy this book. Sinner is about Cole, the rockstar turned druggie turned wolf we meet in the previous trilogy and love to hate.. but also love to love.. pretty conflicting feelings about him to be honest. However Sinner just made him a permanent love to love for me.
Sinner is set after the trilogy ends, and Cole is now on his way to Isabel, the girl he was tangled with during the trilogy. I think those two have a very.. complex and charged love hate relationship. Cole is always on the brink of losing control, of going back to his rock stardom destructive behavior and Isabel.. Isabel has been through so much crap she's become hardened, pessimistic, and wary of people and life. Putting those two together in a room.. woof.. recipe for an explosive. I love complex characters. I love love Cole's monologues and thoughts and his narration. It always feels one second too fast, his thoughts are always in a whirlwind and keeping up with him is exhilarating. That's the best way I can define my reading experience of this book. Of course it is told from both Cole and Isabel's POVs and I also liked her chapters too.
You're not really going to read anything negative about this book because I'm pretty much obsessed with it at the moment. Sinner is more focused on the characters and their struggles than the paranormal aspect. It pretty much reads as a contemporary except for the occasional werewolf-ism. Cole is a pretty cocky but charming guy and Isabel tries to push everyone away but she's really sweet. Those two pretty much suit each other and I loved reading about them and their relationship. What's different in Sinner is that those two already knew each other, were together, but left each other. It isn't a happily ever after ending where as soon as they get together everything is perfect. This isn't a beautiful story or romance, it is fractured and can never be perfect, but who wants perfect right? I love Maggie Stiefvater's writing, she writes better and better with each book. I can't wait for Blue Lily, Lily Blue because The Raven Boys is AMAZING and I can't wait to pick up my copy of The Scorpio Races!